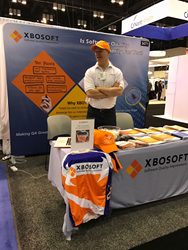 "Since we began working with XBOSoft as our quality assurance partner five years ago, our entire process of developing and release new software has become much smoother and more efficient,"
Orlando, FL (PRWEB) February 20, 2017
When entrepreneur Philip Lew launched a new company dedicated to providing cutting edge software quality assurance services to companies large and small a decade ago, healthcare IT professionals were still immersed in the struggle to convert their systems to electronic health records (EHR). Today, that company, XBOSoft is among the leaders in supporting healthcare companies to improve the quality of their software, and to address their new challenges: security, mobile readiness and accessibility.
XBOSoft will be on site this week at perhaps the most significant healthcare IT trade show of the year, HiMSS17 in Orlando, FL., booth 5471. From its roots in Beijing, China, XBOSoft has evolved into a QA consulting firm with a global presence. Yet its customized approach to serving each client has allowed XBOSoft to develop particular expertise in the healthcare sector.
Clients such as Mobile MedSoft--which develops software and enterprise solutions for pharmacies and long-term care providers of all types--have depended upon XBOSoft's services to grow their businesses. As such partnerships have continued over time, XBOSoft's engineers and testers have gained true insight into the unique quality assurance challenges faced by those in the healthcare field. Such trends as the shift toward agile development practices have challenged many in healthcare software development. XBOSoft's agile testing expertise has given its clients an advantage in spotting and correcting defects during the agile process.
"Since we began working with XBOSoft as our quality assurance partner five years ago, our entire process of developing and release new software has become much smoother and more efficient," said Duke Yetter, President and CEO of Mobile MedSoft. "It's resulted in a much better experience for our customers--they're getting high quality products that perform as expected."
Yetter said key factors in the success of the partnership between the companies are the depth of industry knowledge on the part of the XBOSoft team, the close relationship between testers and developers, the attention to detail of XBOSoft's team, and higher level quality consulting offered by XBOSoft.
"They don't just test software, they offer advice on industry best practices. They point us strategically in the right direction," Yetter said.
While XBOSoft's software quality process consulting team can address issues across a range of industries, it has developed special expertise in mobile, healthcare and finance sectors.
"Because of our long-term relationships with clients like Mobile MedSoft, our team members become experts in our clients' businesses," Lew said. "We can speak their language. We understand the unique challenges they face."
A graduate of Cornell University (Masters in Operations Research and Industrial Engineering) and Beihang University in Beijing, China (PhD in Computer Science and Engineering), Lew had experience in software development and testing prior to launching XBOSoft. He decided to focus XBOSoft's services on quality because of his passion for quality products.
"To XBOSoft, quality is not just about testing software to find the defects," Lew says. "We take a holistic approach to our client's product quality, evaluating not only the software, but the systems and processes that are in place to develop the products."
As software developers have come under increasing pressure to shorten release cycles while maintaining quality, they are looking for QA services that go beyond mere testing.
"Rather than just adding more resources, these companies need a game plan for long-term software quality assurance improvement as part of their competitive position. That's our specialty--providing those long-term solutions to the quality life-cycle. Our team implements process improvements with flawless execution," said Stephen Gohres, vice president, business development.
Headquartered in San Francisco, XBOSoft has offices in the U.S. and China. Services include both onsite and virtual consulting designed to deliver quality assurance assessments and advice on best practices.
To download a healthcare case study from our website, visit https://48ntgp1ff1ym2ayozi2m0076-wpengine.netdna-ssl.com/wp-content/uploads/Mobile-MedSoft-Case-Study.pdf.
Want to talk quality with the experts at HiMSS17? Drop by booth 5471. Philip and Stephen will be there to discuss the latest solutions to the QA challenges of healthcare software development.