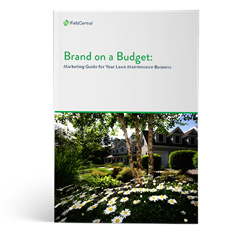 We broke the guide into four easy-to-digest sections, which allows small business owners to turn written advice, into real-world results
Minneapolis, MN; Boston, MA; New York, NY; Saint Louis, MO (PRWEB) February 21, 2017
After sifting through the data of their - soon to be released - 2017 Green Industry Benchmark Report, HindSite Software noticed a trend in small lawn maintenance businesses. Over the last two years these companies - when compared to the industry average - were more likely to be concerned with "improving their marketing, while at the same time wishing they had more free time and didn't have to do all the work themselves."
As a result of this tug-of-war, HindSite Software - the premier provider of field service software for green industry businesses - has released "Brand on a Budget: Marketing Guide for Your Lawn Maintenance Business." The guide offers practical advice from green industry and marketing experts structured in actionable steps.
"Many of our customers have asked how they can create effective marketing with a small business budget and limited capabilities," explains Dom Devine, HindSite's Content Marketing Specialist. "So we broke the guide into four easy-to-digest sections, which allows small business owners to turn written advice, into real-world results."
Part I: Getting Started
-Building a Strategy
Part II: Execute
-Website
-SEO
-Email
-Social Media
Part III: Moving Forward
-Have a Voice & Be Consistent
Part IV: Tools & Terms
Part I details how effective marketing starts with understanding a brand, its market and what separates it from the competition. Part II provides step by step instructions to set this strategy into motion. The section focuses on generating leads in the digital space since "only half of small lawn maintenance businesses have a website. Meaning the other half are missing the 85% of customers who turn to online search engines to find local businesses."
The third section explains how a lawn maintenance business can maintain momentum by engaging with a market in a consistent voice. Finally, the lawn maintenance software company ends the guide by providing definitions of commonly misunderstood marketing terms along with a list of digital marketing tools.
"Like our software, the goal of our content is to always help small green industry businesses be as successful and profitable as possible." And this guide has the potential to do just that.
Visit http://info.hindsitesoftware.com/brand-on-a-budget-ebook to read the marketing guide.
About HindSite Software
HindSite Software has helped contractors better manage and grow their business with field service software since 2001. Designed by a green industry business owner, HindSite Solution and cloud-based FieldCentral assists service businesses with scheduling, contact management, field data collection (e.g. mobile field service software), and invoicing in QuickBooks®, Sage Peachtree®, and Simply Accounting®. This paperless work order management software has been proven to increase efficiency and organization, meaning greater profit potential with less administrative time.