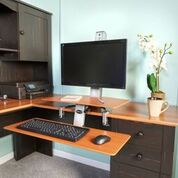 TaskMate Go makes it easy for users to maintain meet certain ergonomic standards.
Prior Lake MN (PRWEB) February 24, 2017
HealthPostures, expert standing desk solution designer, announces the launch of its newly designed TaskMate Go. Core benefits and advantages built into the home office sit stand solution are bold colors, a new wood grain finish and a stylish, functional look and feel. Ability to gain the benefits embedded in the TaskMate Go are available 24/7 through HealthPostures' online ordering system. In person purchase options are offered through partner relationships that HealthPostures has with retailers located across the country.
Small business owners and others who work out of their home will appreciate the stress free set up of the TaskMate Go. Opportunities to enjoy a healthy standing position while working in a customized home office can improve work productivity and engagement. Users of the newly designed sit stand workstation also note experiencing less stress on their joints.
Reduced headaches and wrists and back strain are other benefits that have been associated with the TaskMate Go. Upright sitting and healthy reclined sitting that keep eyes, hips and shoulders comfortably aligned with computer keyboards and monitors are other takeaways gained while using HealthPostures' newly designed TaskMate Go home office sit stand workstation. Even more important, posture alignment that the TaskMate Go makes it easy for users to maintain meet certain ergonomic standards.
Motivation for the redesign is at the core of HealthPostures' mission. The sit stand workstation manufacturer shares that, "HealthPostures wants you to enjoy your life away from work, so by providing you with products that will help keep you healthy at work, you can go home and have the energy to do the things you enjoy."
HealthPostures has been designing and building standing desks and sit stand solutions for more than two decades. Few companies that build sit stand desks have been at the front of the worker mobility initiative for as long as HealthPostures has. The company is committed to offering each prospect a personal touch. In addition to designing winning sit stand desks, HealthPostures connects with individual workers and business leaders during vendor events at major industry conferences. The newly designed TaskMate Go is available now.
About HealthPostures
Founded in the 1990s, HealthPostures LLC (https://healthpostures.com) has been a leader in the workplace solutions space for more than two decades. The company specializes in the design and manufacturing of workplace solutions like adjustable computer stand for desk, computer monitor stands for desk, sit stand keyboard designs and ergonomic sit stand chairs. Products that HealthPostures develops may help to relieve back and neck pain, headaches and other musculoskeletal disorders. A primary mission of HealthPostures' is to "strive to provide quality products that will help transform your sedentary life so you have a healthy way to work." Sought after ergonomics stand up desk equipment, including popular electric standing desks products, that HealthPostures designs include surface Taskmates, the TaskMate Go Laptop, dual monitor sit stand work stations and Stance move seat extensions. The company's strong reputation and proven products and accessories continue to attract regional and national distributors and resellers.
Contact:
HealthPostures LLC
16801 Industrial Circle
Prior Lake, MN 55372
800-277-1841
https://healthpostures.com