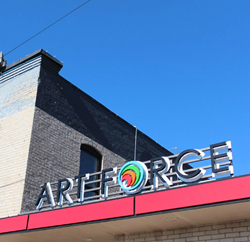 Minneapolis, MN (PRWEB) February 21, 2017
Minneapolis based Art Force announced today that Bolder Options, a non-profit organization focused on healthy development for at-risk youth, has been added to the list of community organizations Art Force will be supporting in 2017 as part of the Art Force MSP initiative.
The two organizations are in the process of designing opportunities that bring art to the forefront for at-risk youth in mentorship programs. Programs will include participative workshops, mural bike rides, and engaging youth to express themselves through art and social events integrating the creative community in Minneapolis - St. Paul and surrounding areas.
According to Darrell Thompson, the CEO of Bolder Options, "There is a large and growing need to support youth who are at-risk for dropping out of school or becoming involved in delinquent or unhealthy behaviors." Mentoring, health-wellness, academic tutoring and alumni leadership are the cornerstones of the Bolder Options program. Over 2,300 youth actively participated in Bolder Options programming, which continues to achieve a success rate 50-percent higher than the national average.
"After meeting with the Darrell Thompson and getting to know the rest of the Bolder Options staff, we knew this was an ideal organization to integrate with their innovative approach to empower youth through mentorship and healthy living practices," says Art Force President Bill Kieger. "By adding art to the mix of Bolder Options activities, we are honored and excited to be part of the transformative work this organization does for our community."
The Art Force MSP initiative aims to empower local artists, educate through Art Force Academy, strengthen the Twin Cities' creative economy and drive charitable contributions. Specifically, the Art Force Community Fund empowers Art Force to coordinate and participate in volunteer activities, create art programming and provide cash contributions to local charitable organizations.
Since the formation of the Art Force Community Fund in 2013, Art Force's 150 client partners have allowed the company to participate in volunteer activities and contribute over $100,000 to more than 20 charitable organizations.
Throughout 2017, the program will continue to take shape as more people and clients get involved. Art Force and Bolder options both encourage people to reach out for more information about how they can engage with the burgeoning partnership.
About Art Force:
Formed in 2009, Art Force is a wholly owned subsidiary of General Finance and Development, Inc. (OTC Markets: GFDV). Our mission is to be the Premier Provider of Artwork Services. Located in the heart of the Northeast Minneapolis Minnesota Arts District, we help organizations achieve their objectives through artwork and visual solutions. Leveraging decades of combined expertise, our team of art consultants, advisers and production professionals provide artwork solutions for organizations big and small. Utilizing the healing, motivational and aesthetic power of artwork, we help organizations unlock their full potential through visual storytelling. Since our formation, we have delivered more than 30,000 pieces of artwork to more than 150 clients in 42 states and Canada. For more information, visit http://artforce.org.