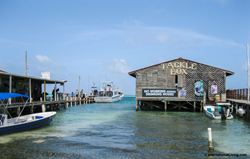 "Language, culture, and community support from locals and other expats can have a dramatic effect on how happy and comfortable retirees feel in their new homes."
Baltimore, MD (PRWEB) February 21, 2017
Live better and spend less... that's the core promise of a low-cost, high-quality retirement overseas. In a locale where things simply cost less, the argument goes, retirees can stretch their nest eggs, live more lavishly, and enjoy a lifestyle in retirement that they couldn't afford on a modest budget back home.
But put the lifestyle upgrade and the built-in adventure aside, and potential expats say the prospect of a move can feel intimidating.
The editors at International Living have a solution: Go to a place where fitting in is quick and easy.
They've identified the five countries around the world that top their 2017 Global Retirement Index category for "Fitting In."
"A satisfying quality of life for retirees abroad often hinges on their ability to fit in, to learn the ropes, and to mix well with the locals in their adopted communities," says Senior Editor Dan Prescher. "Language, culture, and community support from locals and other expats can have a dramatic effect on how happy and comfortable retirees feel in their new homes."
International Living's 2017 Global Retirement Index takes all these attributes into account when rating and ranking its top retirement destinations. Because that sense of "fitting in" is so important, it warrants its own category in the Index, Prescher says.
Below are the five countries that top the category this year for ease of integration. In other words, the five easiest places to retire overseas in 2017...
Ireland: Friendly, English-speaking Locals
"As a nation—but particularly in the countryside—Ireland takes a small-town approach to life," says International Executive Editor Eoin Bassett. "It is a country where it is still considered important to know and interact with your neighbors, be involved in your community, and to do your utmost to make sure that it is an easy and welcoming place to live for all its residents."
Expats who move there—whether returning to the ancestral home or just looking for somewhere new—are constantly taken aback by how warm and welcoming the Irish people are.
Michael and Karin Shepherd, Oregon natives who now live in the southwest Irish town of Ennis, have experienced first-hand just how helpful the natives can be. "One time, we were at an ATM and realized that Karin's debit card had expired," says Michael. "A lady waiting behind us stepped up and said, 'Do you need some money?' intending to give us some." The Shepherds are now convinced that you can't "beat the Irish for warm hearts."
Another great aspect of living in Ireland is that there is no need to learn a new language. While the native Irish language is still actively used, it is predominantly only heard in certain areas of the country, known as Gaeltachts. Throughout the rest of the country English is spoken and used in everyday life. Even the road signs are bilingual, just to make things that bit easier.
Roatán: A Welcoming Caribbean Paradise
Roatán is a stunning English-speaking island in the Caribbean. It is bejeweled with the Mesoamerican reef's magnificent coral reef fringe, and has long been a favorite spot for scuba divers, snorkelers, anglers, and anyone who relishes spending time in or on the sea.
This island is a bit of an anomaly. It's part of Spanish-speaking Honduras, but feels like an independent country. Its primary residents are English-speaking Caracol people of European and British-Afro-Caribbean descent.
Expats find it easy to fit in on Roatán. The majority live in one of four towns, each with a different vibe. Those who relocate here can choose the location, lifestyle, and cost of living that appeals most, making it easy to fit in.
There are many ways to connect with other expats, including getting involved in the community. Expats gather regularly at local bars and restaurants, and a variety of organizations host fundraisers and events throughout the year, bringing together expats for a specific cause.
"Monday blues are a thing of the past in my new home on Roatán," says expat Deb Crofutt, who moved to the island in 2013. "In fact, in winter, when all the snowbirds return, we have a social gathering we call 'Mondays Don't Suck' at a stunning, secluded beach on the island. Just a bunch of expats from all over the world who have made this beach paradise their home."
People enjoy the easy rhythm of Roatán, the endless blue sea that encircles it, and the camaraderie between the expats and the locals. "There are many expat hangouts on both ends of the island and an active expat scene," Crofutt says.
Join an Active Expat Community in Belize
Belize is a country where it's easy for expats to adapt and fit in. First of all, English is the country's primary language. Belize is also a British Commonwealth country, which means the laws and regulations are similar to those in the U.S. and Canada. So it's not that difficult to understand legal documents.
The Belizeans are very friendly and welcoming to expats. They live by a simple rule—help your neighbors. Expats who spend time getting to know their Belizean neighbors will more than likely be invited to local family gatherings and parties.
An easy way to meet new friends in Belize is to join one of the many groups where they congregate. Attend a church…take part in athletic activities…or join a volunteer organization.
"While living in the San Francisco Bay Area my husband and I both worked long days, and too many weekends," says International Living's Belize correspondent Ann Kuffner. "We rarely bumped into our neighbors, had little free time for socializing, and even less energy.
"Since moving to Ambergris Caye, we've been surprised by how much our social horizons have expanded. This is an unexpected benefit of the expat life. Meeting people is often as simple as taking a trip into town. Ambergris Caye is an active community. People get involved, and they enjoy the outdoors. Any day of the week you'll run into people walking or running on the beach, riding their bikes into town—to run errands, work in their businesses, donate time at the Saga Humane Society, or meet friends at a favorite hotspot for lunch," Kuffner says.
Kind and Easygoing Locals in the Philippines
In the Philippines, almost everyone speaks English, so communicating is a breeze; no need to worry about getting directions, talking to a doctor, or even a hairstylist. It is one less concern expats have when making the move there.
"The locals are kind and easygoing," says International Living Asia correspondent Kirsten Raccuia. "They are a curious bunch and just want to know about you and your life. Stop and ask for directions, and most likely they'll end up asking you all sorts of questions: 'Where are you from? Do you like the Philippines?' They want you to love their country as much as they do and are willing to spend time chatting, offering you great tips and advice."
Expats can enjoy all kinds of lifestyles in the Philippines. It is just as easy to find a condo in an ultra-modern high-rise as it is to live off the grid in a small little bungalow in the mountains. The larger towns and cities have Western conveniences—international grocery stores, sleek malls with up-to-the-minute wares, movies theaters playing all the latest movies, and even casinos.
"There are expats living throughout the Philippines, so you won't have to go far to meet some new friends. In most areas, there are expat clubs, happy hours, forums, and even charity groups to join, all geared towards meeting new people," Raccuia reports.
Make Friends from Different Cultures in Malaysia
Malaysia has always been a melting pot of cultures—Malay, Indian, Chinese, and European—and it works. Practically speaking, expats report, life is not that much different than it is back in North America. Sure—it's exotic in that there are temples filled with monks and storefronts filled with what can, initially, be unidentifiable vegetables, fruits, and more.
But English is widely understood and is taught to everybody in school. And thoroughly modern shopping malls and grocery stores mean it's easy to get everything an expat could possibly need—and more.
International Living Malaysia correspondent Keith Hockton says, "Malaysians are some of the friendliest people that I have encountered in Southeast Asia. When we first arrived in Penang in 2008, for a vacation, I remember standing on a street corner in George Town, looking at a map, trying to figure out where a particular street was. The map was bad, and no matter which way I turned it I just couldn't figure it out. Suddenly, a woman stopped her car in heavy traffic, having seen me in a confused state, and came over to me to ask if she could help."
Although Malaysia is predominantly a Muslim country, there is little separation when it comes to race and religion, Hockton says. It's usual to see Malay children walk with their Chinese and Indian friends.
"We live in an apartment block where all the neighbors talk to you," Hockton says. "We talk food. People in Malaysia love their food. Often we will talk lunch after just having breakfast, and dinner after just having lunch. Food is definitely the most discussed topic here."
For more information on the five best retirement havens where it's easy to fit in, see: 5 Great Places To Retire Where It's Easy To Fit In
Editor's Note: Members of the media have permission to reproduce the article linked above once credit is given to InternationalLiving.com.
To learn more please contact InternationalLiving.com Associate Editor, Carol Barron, tel. (772) 678 – 0287, e-mail: CBarron(at)internationalliving(dot)com
For 36 years, InternationalLiving.com has been the leading authority for anyone looking for global retirement or relocation opportunities. Through its monthly magazine and related e-letters, extensive website, podcasts, online bookstore, and events held around the world, InternationalLiving.com provides information and services to help its readers live better, travel farther, have more fun, save more money, and find better business opportunities when they expand their world beyond their own shores. InternationalLiving.com has more than 200 correspondents traveling the globe, investigating the best opportunities for travel, retirement, real estate, and investment.