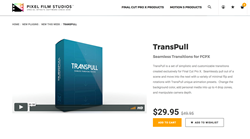 This Final Cut Pro X Transition TransPull can have up to 4 drop zones and utilizes simple drop down menus
Aliso Viejo, CA (PRWEB) February 22, 2017
TransPull is a set of simplistic and customizable transitions created exclusively for Final Cut Pro X. Seamlessly pull out of a scene and move into the next with a variety of minimal flip and rotations with TransPull unique animation presets. Change the background color, add personal media into up to 4 drop zones, and manipulate camera depth. Editors start by finding the transitions library in bottom right corner of the FCPX window. Next, drag a TransPull preset and place it between two video clips in timeline. Click and drag the transitions handles to adjust the overall speed of the animation.
TransPull is completely customizable in Final Cut Pro X. Utilize a simple checkbox to adjust the lighting in the scene. Additionally, users can change the depth and spread of the drop zones provided in each presets with slider controls. Lastly, editors can use simple drop-down menus to change the rotation and flip animations.
TransPull allows users to make use of up to 4 drop zones to display additional media mid transition. To use a drop zone, click on the drop zone icon in the inspector menu and select a piece of media in the Final Cut Pro X timeline. When you've inserted the photo or video, double click the filled drop zone in the viewer window to adjust its size and position.
TransPull simplistic animation style makes it the perfect complement for any video makers creation. Throw TransPull into family slideshows, youtube videos, and even corporate presentations. Impress your audience members with seamless transitions from Pixel Film Studios.
Established in 2006, Aliso Viejo, California-based Pixel Film Studios is an innovative developer of visual effects tools for the post-production and broadcast community. Their products are integrated with popular non-linear editing and compositing products from Apple FCPX. Apple, the Apple logo, Mac OS X, and Macintosh are registered trademarks of Apple Inc. in the U.S. and/or other countries. All other trademarks and trade names are the property of their respective owners.