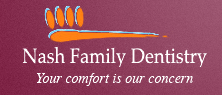 Vicksburg, MS (PRWEB) February 21, 2017
Patients interested in receiving Lumineers® in Vicksburg, MS can now receive a complimentary LumiSmile® digital portfolio to create a before-and-after comparison. Experienced in cosmetic dentistry, Dr. Kenneth Nash understands that many patients wish to transform their smile quickly and affordably which is why he is making this service more available to his community. Lumineers make it possible for patients with dental imperfections to improve the appearance of their teeth safely and conveniently and the LumiSmile program is revolutionizing the way patients are able to picture their outcomes.
Patients who want to know what their smiles would look like after receiving Lumineers in Vicksburg, MS, are encouraged to receive a complimentary digital smile makeover from Dr. Nash, a trusted official provider. Lumineers are a convenient and non-invasive alternative to receiving a variety of cosmetic and orthodontic treatments to improve a smile. Instead of spending months or even years manipulating the teeth and correcting imperfections, Lumineers are designed to be placed directly over each tooth to hide broken, crooked or stained teeth. This leading brand of veneers are the thinnest option, and frequently reported as the most comfortable option, available today.
Lumineers appear natural and have some translucency, just like natural tooth enamel. They are also known to last up to 20 years with good care. Dr. Nash can provide patients with a digital preview of what their smiles will look like with Lumineers in just 30 minutes. Those who wish to find out if they qualify for these ultra-thin veneers are encouraged to meet with Dr. Nash for a thorough consultation.
Patients interested in receiving Lumineers in Vicksburg, MS, are invited to take advantage of the no-hassle, complimentary digital smile makeover service offered by Dr. Nash. Appointments can be easily arranged by calling Nash Family Dentistry at 601-634-1812 or visit the practice website at http://www.vicksburgdentist.com.
About the Doctor
Nash Family Dentistry is a general practice offering personalized dental care for patients in Vicksburg, MS. Dr. Kenneth Nash and his team provide patients with the latest in dental technology in a comfortable and welcoming environment. Dr. Nash offers a variety of services including laser dentistry, dental implants, and cosmetic dentistry services, among others. To learn more about the services offered at Nash Family Dentistry please visit the website at http://www.vicksburgdentist.com or call 601-634-1812 to schedule an appointment.