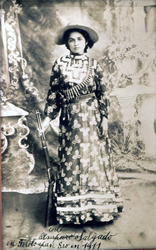 Claremont, CA (PRWEB) February 20, 2017
War, indigenous cultures and inner transformation ferment in Revolution and Ritual: The Photographs of Sara Castrejón, Graciela Iturbide and Tatiana Parcero, at the Ruth Chandler Williamson Gallery of Scripps College from Aug. 26, 2017–Jan.7, 2018. Scripps College joins 70 other cultural institutions in Southern California who are participating in the Pacific Standard Time: LA/LA art exhibitions and programs sponsored by the Getty Foundation in the coming year. In this exhibition, the Williamson focuses on the works of three Mexican women photographers who explore and transform notions of Mexican identity in images that range from the documentary to the poetic. An opening reception will be held at the gallery on Sat., Sept. 9 from 7-9 p.m. Earlier that day, from 3-4 pm, a panel discussion on the exhibition will take place. These events are free and open to the public.
"This is the first exhibition in the US to feature Sara Castrejón," commented Dr. Mary MacNaughton, project director. "It is a rare opportunity to see the works of one of the few women photographers of the Mexican revolution—and the one who most thoroughly documented the struggle."
While Castrejón's photos portray people under the intense pressure of war, Graciela Iturbide's images shed light on life in Mexico's indigenous cultures. Tatiana Parcero takes the medium in yet another direction, creating self-portraits that incorporate spliced images of her body with cosmological maps and Aztec codices.
By bringing their work into conversation, Revolution and Ritual invites readers to consider how photography has been transformed over the past century in Mexico and how it continues to respond to artists' interest in representing present and past, self and other. The exhibit draws on Scripps College's academic strength in feminist and gender studies and the Ruth Chandler Williamson Gallery's expanding photography collection, with its special emphasis on women who have shaped the photographic field.
This exhibition will be accompanied by a full-color catalog with essays by leading scholars in Latin American photography, including John Mraz (Photographing the Mexican Revolution, 2012), Marta Dahó (Graciela Iturbide, 2011), and Esther Gabara (Errant Modernism: The Ethos of Photography in Mexico and Brazil, 2008), and plates devoted to each artist. The catalog will be distributed by Getty Publications.
Revolution and Ritual is part of Pacific Standard Time: LA/LA, a far-reaching and ambitious exploration of Latin American and Latino art in dialogue with Los Angeles. Supported by grants from the Getty Foundation, Pacific Standard Time: LA/LA takes place from September 2017 through January 2018 at cultural institutions across Southern California, from Los Angeles to Palm Springs, and from San Diego to Santa Barbara. Pacific Standard Time is an initiative of the Getty. The presenting sponsor is Bank of America.
The Williamson Gallery received lead grants from the Getty in support of the planning and implementation of the exhibition and publication.
The gallery is located on the Scripps College campus at 251 E. 11th Street in Claremont, CA. During exhibitions, the gallery is open to the public, free of charge, Wed. through Sun., from noon-5 p.m. For more information, please visit rcwg.scrippscollege.edu, call (909) 607-3397 or contact [email protected]
---
Scripps College was founded in 1926 by Ellen Browning Scripps, a pioneering philanthropist and influential figure in the worlds of education, publishing, and women's rights. Today, Scripps is a nationally top-ranked liberal arts college and women's college with approximately 950 students, and is a member of The Claremont Colleges in Southern California. The mission of Scripps College is to educate women to develop their intellects and talents through active participation in a community of scholars, so that as graduates they may contribute to society through public and private lives of leadership, service, integrity, and creativity.