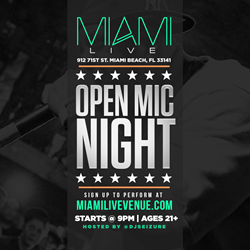 "We wanted to create a platform where local artists and industry professionals could come together and build meaningful connections." - DJ EPPS
Miami, FL (PRWEB) February 21, 2017
Last month, Miami LIVE, South Florida's newest music venue, announced the launch of its Open Mic Industry Mixer. Thus far, the club has seen incredible success, so much so that they've had to expand the event series. Miami LIVE has teamed up with radio DJ and local legend DJ Epps of 103.5 The Beat to put together an additional weekly Open Mic Night on Tuesdays. The first Tuesday Open Mic event will be held on March 7, and each following Tuesday thereafter. For dates and times of upcoming events, Miami LIVE's calendar of events has all shows listed on their official website. Below is the upcoming Tuesday schedule for March:
3/7 - Open Mic Hosted by DJ Epps
3/14 - Open Mic Hosted by DJ Epps
3/21 - Open Mic Hosted by DJ Epps
3/28 - Open Mic Hosted by DJ Epps
All events are schedule for 9PM EST.
Artists and performers can sign up to perform at the next show on Miami LIVE's event page on their official website.
For artists to perform they must register ahead of time online. To sign up for the Open Mic event, visit the Miami LIVE website to register. A recap of one of some previous performances from Open Mic events can currently be viewed online.
Miami LIVE is looking for artists and performers of all genres (Pop, Rock, R&B, Country, Hip-Hop, etc.) to sign up to perform for their new Open Mic Night event series, as well as for those looking to meet and network with other local talent and industry professionals such as DJs, producers, records labels, music executives, and more. Along with Open Mic performance opportunities, Miami LIVE hosts industry showcases, private events, recording sessions, video and photo shoot rentals, and much more.
About Miami LIVE:
Miami LIVE is an exclusive live music rental venue that includes a bar & recording studio. The venue is located on Miami Beach and specializes in Live Music, Concerts, DJ/Club Events, Birthdays, Corporate parties and much more. The main floor offers 3,800 sq. ft of floor space to accommodate most event and concert needs, and the second floor is dedicated to the Recording Studio, with a 600 sq ft space including green room and large 6×8′ isolated booth. Miami LIVE offers an array of packages to fit any budget. Miami LIVE is currently taking booking for rental space and recording session on the Miami LIVE website.