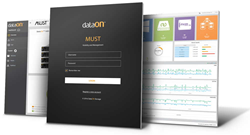 "The addition of the MUST visibility and monitoring tool with their S2D clusters really makes the DataON solution stand out in the HCCA marketplace."
ANAHEIM, California (PRWEB) February 22, 2017
DataON, an industry leading provider of hyper-converged cluster appliances (HCCA) and optimized storage systems for Windows Server environments, today announces the release of DataON MUST (Management Utility Software Tool) infrastructure visibility and management software, providing advanced cluster monitoring, performance metrics, system health statistics, and automated system alerts for Windows Server 2016 Storage Spaces Direct and Storage Replica.
"As a pioneer of Microsoft clustered storage platforms, DataON has delivered resilient, high-performance and scalable solutions for over 500 scale-out SDS deployments," said Howard Lo, vice president of sales and marketing, DataON. "MUST enhances your Windows Server 2016 experience, optimizing the DataON family of S2D-3000 HCCAs. MUST provides an effective standalone monitoring system with a simple GUI for Windows Server SDDC environments."
The DataON MUST infrastructure visibility and management software is fully integrated with the Windows Storage Health Service API (SM-API) and is purposed-designed to delivered SAN-like storage monitoring features for customers deploying Windows Server 2016 software-defined storage. Through a single pane of glass, customers can get real-time dashboard level metrics for IOPS, latency, throughput on cluster nodes and volumes. With system alerts based on Windows Health service faults and SAN-like call home services, systems administrators will be automatically notified when there is a hardware failure, configuration and resource saturation.
DataON MUST provides a new level of advanced monitoring, visibility, analytics and management tools:

SDDC & Hyper-Converged Infrastructure Tier: With the initial focus on storage monitoring and visibility, MUST provides system level information for performance, capacity, hardware inventory and faults/alerts. MUST gives you a dashboard level view of your operational visibility, analytics, infrastructure health management, storage systems metrics and event logging insights.
Hyper-Converged Cluster Appliance/Node Tier: At the hyper-converged cluster appliance (HCCA) node level, MUST provides pool, volume and device level performance, health and operational analytics for HCCA clusters. This enables you to provide proactive systems maintenance and understand requirements for workload migrations.
Systems and Storage Services Audit Log Tier: At the systems and storage services audit level we provide the detailed logging level visibility for events to perform root cause analysis and export analytics source data.
SAN-like Call Home Service Support: Windows administrators can now have automated email alerts sent to key contacts based on the Health Service faults in Windows Server 2016. You can also leverage SNMP traps for 3rd party monitoring including disk and hardware replacement.
The integrated DataON S2D-3000 family of HCCAs with MUST visibility and management software delivers:
Preconfigured 4-node HCCA Clusters – Expanded performance and capacity with scalability and operational flexibility.
Industry-Leading Application Performance – The HCCA with four cluster nodes is capable of providing over 2.4 million IOPS (running VM Fleet) using the latest all-flash Intel NVMe based SSD technology to scale IOPS intensive workloads.
Maximum Capacity Utilization – The capacity optimized HCCA with four cluster nodes is capable of providing over 150TB of usable capacity using the latest Intel NVMe-based SSD technology and SAS capacity drive to process enterprise applications and Hyper-V workloads.
Hyper-V Virtualization Hosting – Each HCCA can support more than 40 Hyper-V virtual machines per node, with up to 16 nodes per cluster.
Storage and Networking with SMB 3.0 over RDMA – Delivers the highest throughput, lowest latency and increases CPU efficiency.
Hyper-Converged Scalability: Incremental compute, networking, and storage resources provides near-linear scalability. Each HCCA can also be expanded in capacity via 12GB SAS JBODs for further storage expansion.
Automated Deployment – Automated out-of-the-box workflows accelerate time to deployment for Windows Server 2016 Storage Spaces Direct and Storage Replica environments.
Integrated Data Protection and Guarded Fabric - Fully supports Windows Server 2016 with Shielded VM and TPM 2.0 trusted attestation for security and business continuity.
The S2D-3000 family is on track to be included in the Windows Server Software Defined (WSSD) solutions catalog. WSSD is a Microsoft program that enables solution vendors to design and validate hardware, and deploy a Windows Server 2016 software-defined infrastructure in a prescriptive manner that follows Microsoft's requirements and best practices.
"As customers move to Windows Server 2016, we are excited to see DataON deliver their new MUST management software that promises to give customers insights into their Storage Spaces Direct environments," said Siddhartha Roy, Group PM Manager, Windows Server, Microsoft Corp. "Customers leveraging DataON's hyper-converged appliances with MUST software can expect an optimized infrastructure, increased operational visibility, and reliability for their new Windows Server 2016 based software-defined data center."
Supporting Quotes:
Intel
"Enterprise and cloud data center architects are facing new and exponentially larger challenges due to the sheer size and capacity of today's data centers which is why highly scalable hyper-converged solutions that simplify hardware and optimize software deployments are crucial," said James Myers, Director of SSD Solutions Architecture at Intel. "By utilizing the Intel® Xeon® processor E5-2600 v4 and the Intel® SSD Data Center Family for NVMe*, new solutions from DataON with MUST software deliver application performance, operational efficiency, and business scalability."
Evaluator Group
"Hyper-V running in Windows 2016 with Storage Spaces Direct provides an alternative to VMware and brings a new hyper-converged solution option for companies that have decided on Microsoft," said Eric Slack, senior analyst with Evaluator Group. "DataON sets a new standard in the hyper-converged market by now providing their MUST visibility and management tool with their S2D-3000 family of hyper-converged appliances."
Mellanox® Technologies, Ltd.
"Getting and staying in front of modern storage needs is the key to successful implementation of the next generation of data centers," said Motti Beck, senior director, enterprise market development at Mellanox Technologies. "DataON's MUST software solution enables advanced system monitoring and world class performance analytics for Mellanox's most advanced storage and networking solutions. This enables us to maximize the efficiency of data center deployments and help provide our customers with the industry's best ROI."
EVGA™ Corporation (customer):
"Building on our mission to use the latest technology, EVGA continues to invest in IT data infrastructure using faster hardware with the latest Microsoft software. These new hyper-converged systems offer additional features and functions and most importantly increase reliability at an affordable cost," said Joe Darwin, Chief Branding Officer for EVGA Corporation. "The addition of the MUST visibility and monitoring tool with their S2D clusters really makes the DataON solution stand out in the HCCA marketplace."
About DataON Storage
DataON is the industry-leading provider of hyper-converged cluster appliances (HCCA) and storage systems optimized for Microsoft Windows Server environments. Our solutions are built with the single purpose of rapidly and seamlessly deploying Microsoft applications, virtualization, data protection and hybrid cloud services. Our company is focused on customers who have made the "Microsoft choice" and we provide the ultimate platform for the Microsoft software-defined data center (SDDC). DataON is a division of Area Electronics. For more information, go to http://www.DataONstorage.com or call +1 (714) 441-8820.
All trademarks, registered trademarks, service marks, brands and names mentioned herein are property of their respective owners.