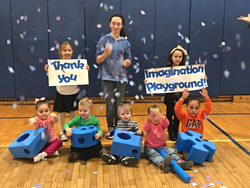 We are very appreciative to have received the honor of having our own set of Imagination Playground blocks
(PRWEB) February 21, 2017
On February 21, 2017 Imagination Playground, LLC – creators of the breakthrough Big Blue Blocks that encourage child-directed free play, announces the first winner of their newly revamped program called Submit To Win! With more than 5000 prizes awarded, this is their largest and most charitable endeavor to date.
Awarding the first of 15 Big Block Sets to the City of Middletown Recreation Department, Program Coordinator Nicole DeStefano-Psarakis offers her thanks, "We are very appreciative to have received the honor of having our own set of Imagination Playground blocks. Our Recreation Department holds many programs for youth who can surely benefit from their usage such as our Pre-school Program, Story Time Come Alive Class, Toddlers-In-Training Program, Little People Playtime Summer Camp Program and many more.
She goes on to say, "We look forward to getting much use out of them and sharing the experience with our Middletown families. Thank you again for this opportunity!"
Dave Krishock, President & CEO of Imagination Playground is thrilled such a deserving facility has won the first prize – "Imagination Playground's chief mission is to get the Blue Blocks in the hands of as many children as possible. Community-based facilities, such as Middletown Recreational Center, allow us to reach a whole new audience of parents, educators, program coordinators and children. It is so fulfilling to know we are able in to help spark a child's sense of creativity, wonder and fun!"
With the Middletown victory, there are 14 remaining opportunities to win an Imagination Playground Big Block Set, awarded each week through the end of May. There are no limits on the number of times participants may enter the contest and four prize levels are available.
Prize Level Summary:

1st Place: 14 Big Block Sets to be awarded – Imagination Playground will draw for one Big Block winner each and every week.
2nd Place: 5 Play Dates to be awarded – Imagination Playground will come to your winning school or organization with its Big Blue Block to conduct a day long Play Date for students or employees. Every participant also receives a 25-piece Pop-Out Mini Playground.
3rd Place: 5 Mini Playground Blasts to be awarded – Imagination Playground will give each winning school or organization a Pop Out Mini Playground for each and every student or employee.
Everyone's A Winner: Enter Submit To Win! And, Imagination Playground will mail you a Pop Out Mini Playground. Thousands to be gifted.
Anyone interested in learning more about Imagination Playground – our Submit To Win Promotion - or any of their creative products or programs are encouraged to call 1-678-604-7466 or email ContactUs(at)ImaginationPlayground(dot)Org.
About Imagination Playground, LLC
Imagination Playground is a breakthrough play space concept developed to encourage child-directed, creative free play. The kind of play that experts say is critical to children's intellectual. Social, physical, and emotional development. Invented by architect and designer David Rockwell and the Rockwell group, Imagination Playground enables children to play, dream, build and explore endless possibilities. Imagination Playground finds its home in daycare centers, kindergartens, elementary schools, children's museums – and science, nature, discovery centers, camps, community centers, children's hospitals, hotels and resorts, public parks and more – in North America and over 70 countries around the world.
For more information, visit http://www.imaginationplayground.com