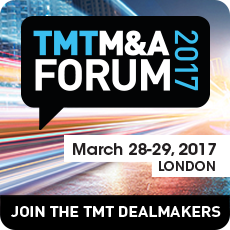 (PRWEB UK) 21 February 2017
Strategy and M&A leaders from leading global telecom, media and technology companies including Amazon, Altice Group, BT, Endemol Shine, Etisalat, Google, Vivendi, Millicom and Scripps will discuss the impact of mergers and acquisitions at TMT M&A Forum 2017 in London on March 28-29.
Over 100 key speakers including CEOs, CSOs, CFOs, Heads of M&A, Investment Bankers, Private Equity investors, legal and professional advisers have been announced for the event which has been expanded to two days this year to meet demand as convergence drives more deals across the sector.
"We are delighted to have such an outstanding line up of new speakers representing Telecoms, Media and Tech as well as the leading Investment Banks, Law Firms, Private Equity investors and advisers active in TMT M&A," said TMT Finance Managing Director, Dominic Lowndes. "The event provides an exciting opportunity to discuss the best strategies for growth and investment and the likely impact of the next wave of merger and acquisitions with the people leading, advising and financing those deals."
A maximum of 350 senior executives can attend the event which is Chatham House Rules with no media permitted.
Companies represented include: Amazon, Altice Group, Axion, Actility, Arqiva, Arcus, BT, Endemol, Etisalat, Google, Vivendi, Millicom, Scripps, TDF, Cellnex, Eurofiber Group, Metronet, Pakistan Telecom (PTCL), AMC Networks International, Modern Times Group (MTG), UBS, Standard Bank, Credit Suisse, Orange, Warburg Pincus, ARM, CityFibre, EY, euNetworks, ING Bank, Wireless Infrastructure Group, FTI Consulting, Vitruvian Partners, MediaGamma, All3Media, Societe Generale CIB, Permira, Citi, Credit Agricole CIB, Hardiman Telecom, HumanEyes Technologies, Mountain Partners, Deliveroo, Data4 Group, CompareEuropeGroup, Deutsche Bank, Star, Roche, INMARSAT, Moat, Investment42, Lloyds Bank, OpenX, Digital Bridge Holdings, Klarna UK, BBC Worldwide, Trivago, Google, Linklaters, Flexenclosure, Bupa, EE, Rakuten Institute of Technology, Manx Telecom, Funding Circle, Blippar and Zegona Communications.
Key sessions at the event include: Telecom and Media M&A Strategies; TMT M&A; Enterprise Cloud Consolidation; Digital Transformation through M&A; Datacentres and Hosting; TMT Infrastructure M&A; Health; Mobile Towers; TV, Video, Broadcast and Satellite; Digital Leaders; Financing TMT LBOs; Regulation and Risk in TMT M&A; Digital Disruption; Fintech; Mobile Money and Banking; M2M and the Internet of Things; Artificial Intelligence; Virtual Reality; Investor Strategies and IT Services and Software.
TMT M&A Forum 2017 takes place in London on March 28-29, gathering key industry, finance and advisory executives to discuss global opportunities for partnership and investment across telecoms, media and tech.
For more information, go to http://www.tmtfinance.com/merger/programme