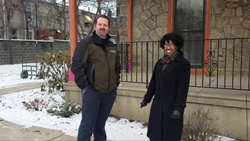 Our Treework for Charity program is our pride and joy at Giroud Tree and Lawn. One of the pillars of our business is helping our community where we can, and we were extremely excited to partner with Horizon House.
Huntingdon Valley, PA (PRWEB) February 27, 2017
Giroud Tree and Lawn donated a full day of free tree care services to prune and remove hazards from approximately nine trees at Horizon House as part of their Treework for Charity program. The Giroud tree service crew arrived at Horizon House's Germantown residential location early in the morning where temperatures were hovering around freezing. Focusing on tree health and safety, the crew pruned and removed deadwood and potentially weak branches that could present a danger to the residents and pedestrians.
"Tree care is important to Horizon House as we know that to keep our properties safe, we must properly maintain our trees," said Peggy Rowe, Advancement Director at Horizon House. "Pruning unwanted limbs and deadwood removal not only helps secure and protect those living, working, visiting, or passing by our sites, it also maintains and improves the property appearance of the neighborhood."
Giroud Tree and Lawn's Treework for Charity program started in 1997 as a way to help local charities in the communities where the company operates. Providing roughly $80,000 worth of charitable tree work, Giroud has helped numerous non profit organizations such as the Hatboro YMCA Pegasus Therapeutic Riding Academy, and Pennypack Ecological Restoration Trust.
Horizon House has been in operation for over 60 years, providing services to over 4,500 people annually who have disabilities, suffer from addiction, or who are homeless. With over 120 locations in Pennsylvania including 47 residential locations, Horizon House is one of the area's largest human services organizations. If you know of any 501 © 3 organizations in need of tree work, contact Giroud by filling out a Treework for Charity form. For more information on Horizon House, visit Horizon House's website.
About Giroud Tree and Lawn
Giroud Tree and Lawn specializes in tree service, tree removal and lawn care programs that make customers love doing business with the company since 1974. Serving Bucks, Montgomery and Philadelphia Counties, the company offers professional tree and lawn evaluation, tree pruning, tree removal, insect and disease control, fertilizing, stump removal and traditional and 100% organic lawn programs to keep lawns healthy and green. Giroud Arborists are certified by the International Society of Arboriculture (ISA) and have the knowledge and experience required to properly diagnose, treat and maintain trees and lawn health. The company is Accredited by the Better Business Bureau and has been awarded the Angie's List Super Service Award® every year since 2005. The "Giroud Treework for Charity" program donates free tree care services to parks, historical sites and other non-profit organizations located in the Company's service area. For more information, visit the company website at http://www.giroudtree.com or call 215-682-7704.