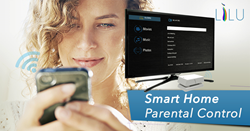 Protecting your family and your memories. Lilu.
London, United Kingdom (PRWEB UK) 23 February 2017
Today Lilu Technologies Ltd, London, United Kingdom, have launched the new Lilu Home device on the Indiegogo.com crowdfunding platform.
Through a combination of a local administered Wifi network and mobile device management techniques the Lilu Home system allows parents to create a safe internet and app use experience for their children in and out of the home. Each child can have an individual user profile allowing different age and experience groups to have a uniquely customized web and app access management based upon updated internet criteria lists or the parent's own individual preferences.
Access to internet content and apps such as Whatsapp, Minecraft, Snapchat, Instagram and others can be controlled in and out of the home to ensure that the same restrictions apply at all times and locations.
The configuration of the system can be completed on the TV or mobile app which also works remotely allowing parents to change the settings from anywhere.
Lilu Home also provides local home network storage through either an internal 1Tb disk drive or your own USB device for movies, home videos, music and photos. Each family member can have their own media folder with pass code control and view their media on the home TV. The same profile system is also applied to each folder to ensure children are not exposed to content not deemed fit by parents.
For further information, please visit the Indiegogo campaign or the website - http://www.lilu.tv