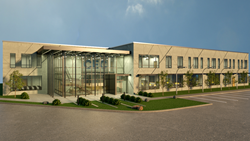 I would say that not having QA on board and the graphics that they provide would definitely have impact the project close ratio significantly. - Michael Ebarb. BAS Operations Manager
ANKENY, IOWA (PRWEB) February 21, 2017
QA Graphics recently partnered with CEC Facilities Group to provide a larger range of services that utilizes QA Graphics' many talents. CEC came to QA Graphics needing us to provide graphical renderings that would impact the project close ratio and provide an easy to understand User Interface that is visually appealing. This lead to the following services provided by QA Graphics: Floor Plans, Exterior Renderings, and BAS Equipment Graphics.
To download a copy of the project spotlight and learn more about the services provided visit: https://www.qagraphics.com/project-spotlight-cec-faculties-group/
CEC was facing challenges from incomplete renderings, miss-quotes, and projected time completion before coming to QA Graphics. QA Graphics sales team and project leaders provided an easy process from start to finish with projects completed in a timely manner. The completions of floor plans, exterior renderings, and BAS equipment graphics allows CEC to promote their building automation system user interface to new clients in a positive manner that is easy to use and visually appealing. The high quality and details of the picture like renderings, delivers a great feature to be able to show CEC clients and set their company apart from other BAS/EMS contractors in the industry.
When talking about how QA Graphics helped overcome CEC's previous challenges, CEC's BAS Operations Manager, Michael Ebarb said, "I would say that not having QA on board and the graphics that they provide would definitely have impact the project close ratio significantly. At the end of the day the end user is wanting to have a UI that easily to interact with and visually appealing. The use of QA Graphics allows us to provide an "easy to understand" UI. A person with little to no HVAC mechanical experience is able to view our UI and know if the unit is operational or is in need of repair."
About QA Graphics - QA Graphics is a leader in the building automation and green building industries. The company specializes in HVAC graphic development services, system graphics, floor plan graphics, and Energy Efficiency Education Dashboards™ (EEEDs). Since 2006, QA Graphics has served as an expert design resource for the building controls industry and is able to provide BAS graphics for any type of building automation. The company also provides marketing solutions such as interactive applications, 3D design and animation, UX design, videos, and more. Visit http://www.qagraphics.com to learn more.
About CEC Facilities Group- Built from the ground up, one project at a time, CEC Facilities Group is the fastest growing electrical, technology, and mechanical contracting company in Texas. Approaching each project with only the highest-quality and dedication to their clients who define them. Through the years, CEC has organically grown and diversified into three subsidiaries to better serve client's needs: CEC Electrical, Inc.; CEC Facilities Group; and CEC Technology Group. Visit http://www.cecelectricalinc.com to learn more.