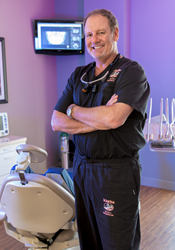 Mt. Pleasant, SC (PRWEB) February 21, 2017
New patients with sleep apnea in Mt. Pleasant, SC, are now welcome to schedule an appointment with Dr. Kevin Hogan, without first receiving a referral. While some of the more common symptoms of sleep apnea, such as snoring and fatigue, may seem relatively harmless, if left untreated the condition can eventually have a negative effect on a patient's overall health. Dedicated to his patient's oral and overall health, Dr. Hogan encourages patients to treat their sleep apnea symptoms before they progress.
According to the National Sleep Foundation, over 18 million Americans have sleep apnea. This condition is more common than most people realize, but it can be a challenge to recognize and diagnose since the majority of its symptoms occur during sleep. Symptoms can be quite varied, but often include chronic snoring, persistently feeling tired during the day and frequently waking during the night. While symptoms may at first seem bothersome, over time they can lead to depression, heart disease and other life-threatening conditions.
There are two types of sleep apnea: obstructive and central. Obstructive sleep apnea is the most common and occurs as a result of restricted airways. During sleep, the airway collapses or becomes blocked, which inhibits natural breathing and minimizes the amount of oxygen the patient receives. In some cases, lifestyle changes may be recommended in order to minimize obstructive sleep apnea. Dr. Hogan also offers effective treatment options at his practice that deliver oxygen to the patient while preventing airways from collapsing or becoming blocked.
Patients who believe their snoring, and other symptoms of sleep apnea in Mt. Pleasant, SC, could be a sign of something more, are encouraged to meet with Dr. Hogan for treatment. Appointments can be scheduled by calling his leading-edge practice at 843-639-5921.
About the Doctor
Dr. Kevin Hogan is a general dentist providing individualized care for patients in Mt. Pleasant, SC. Dr. Hogan is a graduate of the Indiana University School of Dentistry and has completed hundreds of hours of continuing education courses to stay contemporary with the latest dental technologies. In addition, he has also completed coursework with the Dental Organization for Conscious Sedation and has lectured at the University of North Carolina, Emory University, the Saginaw Valley University and AUA-American University of Antigua on head and neck anatomy and oral pathology. Dr. Hogan is a member of the American Dental Association, International College of Cranio-Mandibular Orthopedics, Academy of Laser Dentistry, International Association of Physiologic Aesthetics, Institute for Advanced Laser Dentistry, DOCS (the Dental Organization for Conscious Sedation), International Congress of Oral Implantologists and the South Carolina Dental Association. He is also a past member of the American Straight Wire Orthodontic Association, Maxillofacial Orthopedic Growth and Development, the American Academy of Pediatric Dentistry and the Functional Orthodontic Society. He and his team are dedicated to providing exceptional oral care to patients through personalized treatment plans. To learn more about the services offered by Dr. Hogan, please visit his website at http://www.smilesbyhogan.com or call (843) 639-5921.