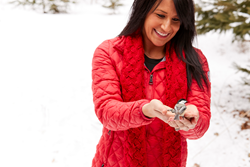 "Visitors will find many indoor and outdoor activities across the county giving them a chance to explore the unhurried season in Door County, WI."
Door County, Wisconsin (PRWEB) February 23, 2017
Door County is a bucolic peninsula that juts out into Lake Michigan in Wisconsin's northeast corner. Named one of the Top 10 Vacation Destinations in North America by Money magazine, Door County features 300 miles of shoreline, 11 lighthouses, 5 state parks and 19 county parks. It is known for its natural beauty, artistic offerings and year-round outdoor recreation opportunities.
March is a great time to squeeze in the final winter activities for the year or start thinking spring. Visitors will find many indoor and outdoor activities across the county giving them a chance to explore the unhurried season in Door County. Special "Nature of Romance" lodging packages are available until March 26, 2017 at DoorCounty.com.
March Special Events
•Check out the student exhibit at The Clearing Folk School featuring the work of more than 600 winter program students. This free exhibit is held March 4-5 from 10 AM to 4 PM.
•Spot a leprechaun and follow the rainbow to celebrate St. Patrick's Day in Door County. View Irish themed floats during the St. Patrick's Day parade in downtown Sturgeon Bay, Saturday, March 11 at 11 AM.
•Spend an evening at Third Avenue Playhouse, presenting True West, a comedy by Sam Shepard. The show runs from March 16- April 9.
State and County Park Activities
Door County offers 5 state parks and 19 county parks across the 70-mile-long peninsula. Each park offers a variety of recreational opportunities and scenic beauty.
•Race down the heart pumping sledding hill located at the hole number 17 fairway at Peninsula State Park Golf Course. For a more relaxing activity visitors can feed chickadees from their hand at the park's White Cedar Nature Center.
•Take a relaxing hike or a snowshoe adventure through Potawatomi State Park.
•View naturally formed ice sculptures and crashing waves at Cave Point County Park.
•Spend an afternoon looking for ice shoves along the western shoreline of Door County. Some spots to see these formations are Door Bluff Headlands County Park, Peninsula State Park, and Ellison Bluff County Park.
•Fat-tire bike through Newport State Park on a sunny afternoon.
On Going Winter Activities
•Step aboard the Door County Trolley's "Winter Wonderland Tour" every Saturday through March 25 which includes a fireside lunch, tastings at 2 local wineries, and a sleigh ride. They also feature a "Wine, Spirits, & Brew Tour" with stops at two wineries, a distillery, and a micro-brewery, topped off with a fabulous lunch.
•Get creative at Hands on Art Studio adult night every Friday from 6:30-10 PM. Budding artists can make art projects while enjoying drinks and snacks they bring in. Select nights feature live music. Open 10-5 daily during Spring Break March 24-April 15.
•Enjoy nature with a guided snowshoe hike at The Ridges Sanctuary every Friday and Saturday afternoon in March. Hiking is available when no snow is present.
•Explore a winter trail on horseback at Kurtz Corral, offering rides every weekend.
•Watch the winter fleet of freighters leave the Sturgeon Bay shipping canal as they head out for the 2017 Great Lakes shipping season. Updates can be found on the Door County Maritime Museum Facebook page.
•Listen to live music throughout Door County every weekend. Visit the music section at DoorCounty.com to see what's playing every night.
Stay Connected at DoorCounty.com