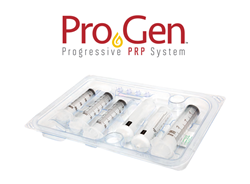 The expectations that my patients have regarding safety and quality are both met in the ProGen PRP system. The new standard has been set. Greg Laurence, M.D.
Addison, TX (PRWEB) February 22, 2017
Bellus Medical, a leader in medical aesthetics, today announced the launch of ProGen™ PRP, the latest innovation in the delivery of Platelet Rich Plasma (PRP). PRP systems are used by physicians in areas of orthopedics, wound care, aesthetics, cardiovascular and pain management, to accelerate tissue synthesis and provide a faster and more efficient healing process. There are many systems available on the market today, but not all are created equal. ProGen PRP provides the best value in the marketplace at the lowest costs system per mL, with the greatest concentration of platelets. The system is scientifically validated with 510(k) clearance, providing practices the confidence in the quality of platelets available to use for various applications. Medical practices who are looking to optimize their PRP business will want the Bellus Medical ProGen™ PRP system.
Why ProGen™ PRP?

Industry leader in three critical areas: +70% platelet recover, 5.1X concentration factor and low red blood cell protocols.
It's user friendly and highly portable to be used at a doctor's office, surgical center or hospital.
It's an adaptable system that grows with the medical provider as demands for validated concentration levels and needs for larger quantities of PRP evolves.
"With ProGen™ PRP, one kit does it all," said Joe Proctor, Bellus Medical President and CEO. "It is designed to meet the unique needs of our practice partners with fully customizable product volumes and platelet concentrations, making it the most flexible kit in the marketplace. It's safe and easy to use, offering consistently repeatable results and a reduction in procedure time. These factors make ProGen PRP the best value in the PRP market and a product we are extremely proud to offer."
About Bellus Medical
Bellus Medical continues to raise the standard in offering solutions for medical aesthetic practices in strategic areas of growth. Bellus is committed to providing compelling, differentiated products that enhance the patient experience and represent a significant business opportunity for practice partners.
For more information about Bellus Medical and ProGen™ PRP, visit http://www.bellusmedical.com