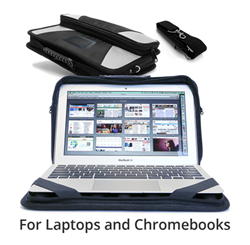 Beekmantown Central School District, after deploying 1000+ devices and evaluating multiple vendors, have chosen Sunrise Hitek's Rugged Laptop Case to protect current and all future Chromebooks since 2015.
Chicago, IL (PRWEB) February 23, 2017
Sunrise Hitek designed a full line of protective tech gear with schools in mind. They took all the feedback they received from students, teachers, and administrators to create some of the best products for schools in the industry. Sunrise is currently offering free samples of their Slim Tough Case for iPad, Rugged Chromebooks bag (with cooling channel for charging while in case), and their iPad Wired Keyboard for schools to test. All of these items are currently in stock and ready for immediate shipping.
Sunrise Hitek's Rugged Laptop Case offers the ultimate in laptop protection. The rugged laptop case is made of durable ballistic nylon on a rigid frame. Its "always-in" design with proprietary Cooling Channel™ technology allows the computer to be used without being removed from the case. The "always-in" design is so special because it enables the laptop to stay in the case at all times, preventing a myriad of damages that could potentially occur such as dropping or cracking of the screen.
Sunrise Hitek's Slim Tough Case G5 is the top in iPad protection. Its highlights include a dual-layer rugged design including a protective silicone skin over an inner hard case and a naked frame for the very best touch experience, which is 100% stylus compatible. The Built-in stylus glides smoothly on the glass screen and keeps it clean. Handy magnetic closure keeps the folio cover shut when closed and the strong kickstand with stainless steel pins provides superb stability. The new G6 Slim Tough Case model features some notable improvements. This case sports an all new 3-piece design for unparalleled protection along with a slim profile that enables it to fit in all charging carts on the market. The G6 also boasts a built-in high-clarity screen protector as well as three accessory/expansion ports on back which can be used for kickstand, hand strap, asset tag windows, logo customization plates, and other future accessories A removable 5-position kickstand is also included.
The Wired Keyboard from Sunrise Hitek is an asset to any classroom. Buyers can choose a model compatible with all iOS devices with 8-pin Lightning port, including the iPad Air, Air 2, Mini, Mini with Retina, Mini 3, iPhone 5/5S/5C, 6, 6 Plus, or the 30-pin dock connector, compatible with including iPad 1/2/3/4, iPhone 3/4/4S, iPod Touch. Overall the wired keyboards have been a huge hit with schools. One such school system; Beekmantown Central School District is at the forefront of technology in the classroom. After deploying 1000+ devices and evaluating multiple vendors, they have chosen Sunrise Hitek's Rugged Laptop Case to protect current and all future Chromebooks since 2015.
About Sunrise Hitek
Sunrise Hitek's "Hitek" store, is a leading maker of protective gear for Apple's iPad. The brand changed to üuber when the company starting developing cases for other devices, such as the MacBook, Chromebook, and Samsung devices. Sunrise Hitek Group, LLC, owner of the üuber brand, also operates Sunrise Hitek, a leading digital printing company based in Chicago. As a G7 Qualified Master Printer, Sunrise is uniquely qualified among protective gear makers to offer a wide array of customization options, ensuring the most consistent and accurate color reproduction. Sunrise is an Inc. 5000 company established in 1988 and employs the most advanced equipment and technology, such as G7-certified HP Indigo and UV flatbed presses, and digital die-cutting, to create best-in-class products. A privately-owned enterprise, the company is based in Chicago and sells products worldwide.