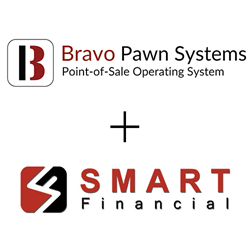 "In the hundreds of stores we work with, we always recommend Bravo."
Las Vegas, NV (PRWEB) February 23, 2017
Smart Financial is growing exponentially. They've taken the pawn industry by storm with their successful business model centered on valuing both customers and high-achieving, engaged partners and staff. Their executive team looked for ways to build their business, while maintaining the standard of excellence that the Smart Financial name invoked, both at new and old stores.
Their achievements and reputation led to developing a consulting firm within the Smart Financial organization to help other pawnbrokers implement their winning strategy. They needed to develop a systematic way to relay their tactics with other pawn brokers looking to enhance employee retention and engagement, increase productivity, and maximize profits.
In short, Smart Financial's challenge was a good one: scalability. They were looking for a way to ensure the quality of their product remained intact while they took on new clients and opened new stores around the country.
Smart Financial executives knew they needed to work with a partner that understood their vision for the growth for their company. Moreover, they concluded that one of the keys to their success was the implementation of solid systems to establish a foundation for new and growing businesses.
After working with the most renowned software companies in the industry, Smart Financial turned to—and continues to rely on—Bravo Pawn Systems for their pawn-based POS platform and computing resources for maximum impact and growth. The simplicity and security of Bravo's platform ensures quick setup and training for new clients, while providing all of the functionality needed to run a modern pawn shop.
"In hundredsof stores we work with, we always recommend Bravo. There is really no other choice," says John Thedford, CEO of Smart Financial.
Here's why it makes sense for Smart Financial to exclusively use and recommend Bravo Pawn Systems:
eCommerce – Bravo provides the ability to easily sell on Buya, eBay, Craigslist, Gun Broker, Amazon, & more, helping customers increase net income, a cornerstone of Smart Financial's business model.
Cloud POS – Having the right tools in place is crucial for success, and Bravo's Point of Sale platform is the best in the industry. Their safe and secure POS system is cloud-based, delivering business continuity and peace of mind.
Training – Bravo is dedicated to making all of its systems easy-to-learn and easy-to-use, but doubles down with top-notch training, one of Smart Financial's foundational business philosophies.
Reports – Continual reassessment is a best practice of any industry. Bravo provides the analytics necessary to see your company's strengths and weaknesses in order to adjust inventory, evaluate employees, and more.
Smart Financial has been able to keep the quality of their business intact while growing by utilizing Bravo's Pawn System's solution. Thedford says, "Bravo allows a cutting edge approach to appropriate decision making at the team member level, thereby allowing us to meet customer's needs that exceed their expectations."
If you'd like to find out how Bravo can help your business, whether its to grow and scale like Smart Financial or just be more efficient with your daily operations, please contact a Bravo representative at 702-701-9115 to receive a personalized Bravo tour.
About Bravo Pawn Systems:
Bravo Pawn Systems believes in the success of the pawn industry and strives to see pawnshops grow and compete with the national big box stores. Developed by a 4th generation pawnbroker specifically for pawnbrokers, Bravo helps companies find solutions to challenges they face with day-to-day operations.