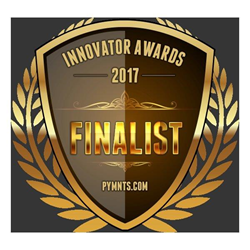 We are thrilled to support the Campus Scientific launch of Tuition Assurance, a member driven program designed to improve school payments and keep students in class and out of debt.
Boston, MA (PRWEB) February 22, 2017
Neighborhood Pay Services (NPS) in partnership with Campus Scientific for the launch of Tuition Assurance has been chosen as a finalist for PYMNT'S prestigious 2017 Innovator Awards in the Best Innovation in ACH category. This marks the second nomination for NPS as an Innovator Award finalist in recognition of the company's proprietary payroll direct deposit platform.
Following weeks of deliberation by investors and payments industry experts, the 2017 Innovator Awards will be announced at the Innovation Project® 2017 to be held at Harvard University, March 16-17, in Cambridge, Massachusetts*. Six finalists across 15 categories will now compete for Gold, Silver and Bronze medals – with winners to be announced, live, at the PYMNTS' Innovator Awards Dinner, the closing ceremony of the firm's two-day Innovation Project 2017. The Awards Dinner will be emceed by Jason Alexander, known by millions for his role as George Constanza on "Seinfeld" and, of course, for making the "fat wallet" famous. In addition to innovator category award winners, Alexander will also announce the PYMNTS Lifetime Achievement Award winner, Women Innovating in Payments and the coveted "Most Innovative" and "Most Disruptive" Players.
"We are thrilled to support the Campus Scientific launch of Tuition Assurance, a member driven program designed to improve school payments and keep students in class and out of debt," said Richard A. Levitan, president of Neighborhood Pay Services. "We are also particularly excited about extending utilization of our proven payroll direct deposit platform to other high volume industry verticals like tuition for more reliable recurring payments."
Dubbed the "Davos of Payments", the Innovation Project brings together the most senior executives and thought leaders in payments, commerce and retail each year for two days of closed door, off-the-record discussions held at Annenberg Hall on the campus of Harvard University in Cambridge, Massachusetts. * This year, this highly unique and high-powered forum will share their insights on where they're placing their bets as they look ahead to the next decade.
Voting is open now through February 24th.
The Innovation Project® and PYMNTS.com® are not affiliated with Harvard University, nor is the Innovation Project® 2017 a Harvard University program or activity.
About Neighborhood Pay Services
Neighborhood Pay Services (NPS) specializes in programs that mitigate payment risk in a diverse credit environment where traditional payment tools do not adequately address the financial needs of millions of Americans. The company pioneered the concept of NPS Rent Assurance® with NPS Rent From Payroll®, considered the gold standard in risk reduction in the rental housing industry. As a SaaS provider, NPS leads in the Payment Assurance category through direct deposit from payroll for recurring charges. In 2016, NPS was recognized by NACHA -The Electronic Payment Association® with the Kevin O'Brien ACH Network Award for Excellence in the Advancement of Electronic Payments, and by PYMTS.com as an ACH Innovator finalist.
About Campus Scientific
Based in Daytona Beach, Florida, Campus Scientific is introducing new options for borrowing and tuition management through its Tuition Assurance initiative that will launch in second half of 2017. The program will initially be marketed through business affairs and other senior level management of the Florida College System (FCS), which encompasses the 28 state colleges educating over 800,000 students annually. National rollout is scheduled for 2018. The company will utilize the proven Neighborhood Pay Services payroll direct deposit platform for improved payment assurance for tuition.