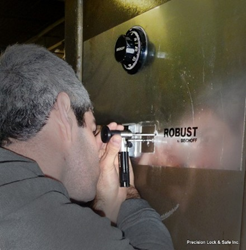 Friends can be jealous, or criminal. Stories of thefts, following "bling"-related Facebook postings, are on the rise.
Floral Park, NY (PRWEB) February 22, 2017
Crime is up nationwide. So says the FBI's annual crime report, as well as a recent report by the Brennan Center for Justice. But while most of the attention is focused on terrorism and homicide, home invasions and burglaries are fast becoming a serious concern for many Americans. Safe experts, Precision Lock and Safe, of Floral Park New York, have developed a Top 7 list to keep your home burglary-free.
1. Use deadbolts on all exterior doors.
They're not only very difficult to bypass, they also add precious seconds to any burglary attempt, which alone may be enough to dissuade would-be home invaders.
2. Get a safe with a UL TL-15 rating or higher.
They're super strong, very difficult to crack and are also insured, in some cases, for up to $100,000.
3. Trim trees, bushes, shrubs and hedges, all around the perimeter of your house.
Burglars often go unnoticed. That's because they hide. Sometimes right on your property. Make it difficult, or impossible, for them to do so.
4. Don't advertise your goods.
Displaying your shiny wears for any passerby to see is a surefire way to attract a theft. Draw the curtains, and keep them drawn.
5. Don't share news about your newly acquired assets on social media.
Friends can be jealous, or criminal. Stories of thefts, following "bling"-related Facebook postings, are on the rise.
6. Indoor and outdoor light timers can help create the impression of occupancy, even when no one is home. These are especially useful if you often get home late. Burglars prefer to strike when they believe no one is home.
7. Invest in a good home security system, and place the company's decal in a highly visible outdoor area. Home security companies are anti-burglary professionals. You are not. Burglars prefer not to deal with anti-burglary pros. Additionally, today's security systems both record video and send an immediate alert once there's any movement on your property.
Follow these 7 steps and you'll keep the burglars away for good. For more tips and ideas, visit http://www.precisionlockandsafe.com.
About Precision Lock and Safe
The Precision Lock and Safe company is owned and operated by security experts, and brothers, Dov and Elaad Israeli. The company is located on Long Island, in Floral Park, New York, and serves Queens, Brooklyn, Nassau and Suffolk counties, and surrounding areas. Their security expertise is often sought by the nation's top media outlets, including The New York Times and ABC News.