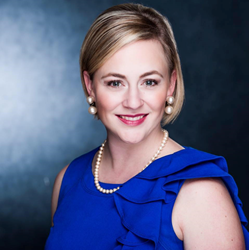 El Paso, TX (PRWEB) February 21, 2017
Crown Wealth Strategies is proud to welcome Registered Representative Sumer Rose-Nolen under the Crown family.
Sumer is a graduate of the University of Mississippi (Ole Miss), and has been a proud member of the Las Cruces community for 13 years. She brings strong leadership, management, and planning skills to her practice, which is focused on serving business owners, physicians, and families.
Sumer's accolades include New York Life Executive Council and 2016 Las Cruces HBA Associate Member of the Year. She is the Chair of the Las Cruces Young Professional Leadership Council and is also proud to be authorized to offer AARP Products.
Lizzie Dipp Metzger, President of Crown Wealth Strategies, feels this addition strengthens Crown as it expands its unique planning-centric practice to a broader client base. "We are thrilled to welcome Sumer to Crown Wealth Strategies," said Dipp Metzger. "In her time in financial services, she has demonstrated commitment and integrity in working with her clients, and she is an excellent fit for our culture and process. Her unique position in the Las Cruces community will allow Crown to continue to serve those who have financial, business, and estate planning needs."
Crown Wealth Strategies is a comprehensive wealth strategies firm in El Paso, TX serving clients nationwide. The firm, which was founded in 2010 by Dipp Metzger, has rapidly expanded in the El Paso markets as well as serving clients nationwide. As a Certified Financial Planner and fiduciary, Dipp Metzger provides clients with an integrated retirement and insurance strategy focused on maximizing value over the course of their lifetime. Crown's focus is physicians, professionals, and business owners in the affluent market. Crown provides holistic strategies for retirement, college funding, business planning, and wealth accumulation.
Lizzie Dipp Metzger is a member Agent, The Nautilus Group®, a service of New York Life Insurance Company- http://www.TheNautilusGroup.com Financial Adviser offering investment advisory services through Eagle Strategies, a Registered Investment Adviser. Registered Representative offering securities through NYLIFE Securities LLC, Member FINRA/SIPC, a Licensed Insurance Agency, • 303 N. Oregon Suite 1100 El Paso, TX 79901 • 915-534-3200 Crown Wealth Strategies is not owned or operated by Eagle Strategies LLC or its affiliates.