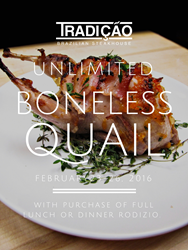 Houston, TX (PRWEB) February 22, 2017
The restaurant will be serving boneless quail with and without bacon from Manchester Farms in addition to their signature unlimited options of grilled meats and seafood. Tradicao Brazilian Steakhouse is excited to share this special occasion with their loyal customers and friends in Southwest Houston and Clear Lake areas.
"Big flavor quail are notorious for being delicious as an appetizer and main course however they have not had a presence with Brazilian Steakhouse menus. We wanted to offer for just a weekend an exciting premium additional poultry option that many don't see featured but grill it with a Brazilian twist!" Melissa Abrantes, Tradicao marketing director said. "The quail pairs wonderfully with our creamy and cheesy potatoes. We are looking forward to share this exciting grilled poultry addition with our customers!"
Tradicao Brazilian Steakhouse offers diners a full all-you-can-eat Brazilian dining experience. From the traditional Picanha top sirloin steak and Filet Mignon served tableside to delicious shrimp and fresh salmon - Tradicao Brazilian Steakhouse has all of the best Brazilian steak and seafood offerings.
They have two locations to choose from – Southwest Houston/Fort Bend at 12000 SW Freeway or in Clear Lake/Webster at 201 W. Bay Area Blvd. To contact the SW Freeway location call 281-277-9292. To reach the Bay Area Blvd. location, please call 281-557-9999.
More information about Tradicao Brazilian Steakhouse is also available on their website at
http://www.Tradicaosteakhouse.com.