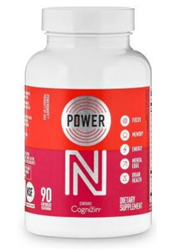 New York, NY (PRWEB) February 22, 2017
Our high-octane society demands higher stands in academics, professional life and athletics. It's enough to overwork even the sharpest brain.
Power On, a mental performance enhancer from Modus Nutrition, provides scientifically tested ingredients that offer peak healthy activity without over clocking the brain. Each capsule contains Cognizin® Citicoline, a branded form of the brain health nutrient citicoline that provides vital nutrients that help the brain stimulate electronic impulses, maintain healthy neurons and protect them from free radicals.
Unlike other brain health supplements, Power On contains no stimulants, such as caffeine, and is not addictive. Three capsules taken daily deliver ingredients specifically designed to promote memory, alertness, energy, productivity and brain health and improve muscle twitch response. A healthy brain converts substances found in many foods into catecholamines, neurotransmitters such as dopamine and epinephrine that make cognition possible. The brain won't synthesize more catecholamines than is healthy, but is often producing less.
Power On fills in the gaps by delivering precursors to catecholamines that have been extracted and condensed. Those extracts are combined with a mix of vitamins and minerals, plus a proprietary blend of 15 ingredients that includes Cognizin® Citicoline, which has been shown to increase focus and attention in several published studies.*
It also contains an acetylcholine precursor, which is critical for neuromuscular transmission. The precursor helps govern stimulus-response time, making reaction times faster.
Power On is available at ModusNutrition.com along with its sister product, Power Off, a proprietary blend of nine ingredients that work synergistically to promote relaxation, sleep and brain health. To find out more about the product and the ingredients visit: https://poweronpoweroff.com/collections/buy?variant=29474637522
About Power On Power Off
Power On and Power Off are premium best-in-class sleep and mental health supplements produced by Modus Nutrition, a leading edge nutraceutical company led by Chief Scientific Officer Dr. Robert Pastore and Chief Executive Officer Elaine Kunda. The company has utilized decades of research and lifetimes of experience on the field and in the lab by top scientists, elite athletes, trainers, and sports medicine professionals to develop a suite of science-based products that optimize performance in three key areas: focus, sleep, and nutrition.
Power On, along with Power Off and Modus (professional plant-based protein powder), has completed the requirements of the NSF Certified for Sport program. This certification confirms that these products do not contain any of the 265+ substances banned by major athletic organizations. This program verifies that the contents of Power On, Power Off and Modus actually match what is printed on the label. It also verifies that Modus Nutrition products are manufactured at a facility audited by NSF for quality and safety.
About Cognizin
Cognizin® Citicoline, manufactured by Kyowa Hakko Bio Co., Ltd., is a clinically studied and patented form of Citicoline, a natural substance found in every cell of the body and especially vital to brain health.* Citicoline is a potent brain-health nutrient. A proprietary form of citicoline, Cognizin® has been clinically studied to support mental energy, focus, attention and recall. Cognizin is manufactured through a patented fermentation process to yield high quality and high purity. Cognizin is also highly stable, GRAS, ultra-pure and allergen-free. For more information on Cognizin, visit Cognizin.com.
About Kyowa Hakko USA
Kyowa Hakko USA is the North & South American office for Kyowa Hakko Bio Co. Ltd., an international health ingredients manufacturer and world leader in the development, manufacturing and marketing of pharmaceuticals, nutraceuticals and food products. Kyowa is the maker of branded ingredients including Cognizin® Citicoline, Lumistor® L-Hydroxyproline, Pantesin® Pantethine, Setria® Glutathione, as well as Sustamine® L-Alanyl-L-Glutamine. For more information visit Kyowa-USA.com.
*These statements have not been evaluated by the Food and Drug Administration. This product is not intended to diagnose, treat, cure, or prevent any disease.