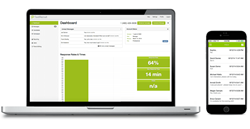 "We believe that TextRecruit is the frontrunner to solve the $160 billion opportunity of connecting talent to companies and optimizing employee communication." -Ilya Kirnos, Co-Founder & Managing Partner, SignalFire
San Jose, CA (PRWEB) March 21, 2017
TextRecruit, the leading intelligent text messaging provider for employers, announced today that it has raised $3 million in series A financing, led by San Francisco-based investment firm SignalFire.
"We believe that TextRecruit is the frontrunner to solve the $160 billion opportunity of connecting talent to companies and optimizing employee communication," said Ilya Kirnos, Co-Founder & Managing Partner of SignalFire. "Our teams share a vision that to improve hiring, employers need to be equipped with best-in-class communication tools. We are thrilled to partner with TextRecruit to further accelerate their rapid growth and ensure that they continue to be the market leader in enterprise text messaging and chat."
TextRecruit enables employers to tap into the 6.1 billion people texting worldwide by creating two-way text messaging software that helps employers centralize, personalize and automate communication. Over 200 companies including VMware, Kindred Healthcare, Sodexo, Waste Management and the U.S. Marine Corps use TextRecruit to accelerate time-to-hire, increase response rates and stay compliant.
"Email was slow and ineffective. InMail messages never got noticed. Cold calls rubbed candidates the wrong way. Text messaging had always worked best, but was unmanageable until we discovered TextRecruit," says Courtney Archer, Sourcing Manager at Randstad Sourceright. "The result was a 2.5x increase in our clickthrough rates with most candidate responses taking less than 15 minutes. TextRecruit helped us reach candidates quickly, have great 1-to-1 conversations, and turn them around into hires more efficiently than we could have imagined."
TextRecruit plans to leverage the capital to further accelerate its rapid growth and profitability, enhance its suite of top-of-the-line intelligent messaging solutions, and expand into global markets already leveraging text message communication.
"Global communication has changed with the number of text messages overtaking phone calls as far back as 2008. TextRecruit helps the world's largest employers centralize and monitor engagement through the preferred communication channels of their candidates and employees," said Erik Kostelnik, Co-Founder and CEO of TextRecruit. "SignalFire understands that for employer communication to survive, it must evolve. We could not be more proud to partner with their brilliant, data-minded team to fuel that evolution."
Other investors in the round include Ben Davenport, Founder and former CEO of Beluga (which later became Facebook Messenger); Julia Popowitz, former Deputy General Counsel at Facebook; Sarah Imbach, former CRO at LinkedIn; and Steven Baker, former Distinguished Google Engineer & Tom Friel, former CEO of Heidrick & Struggles.
TextRecruit has achieved major milestones up to this point since its founding in 2014 as a bootstrapped startup.
Rapid Innovation: Since patenting the TextRecruit platform, the company also launched TextApply and TextHR to attract talent via SMS short codes and to engage distributed employees about payroll, benefits and onboarding. Additionally, TextRecruit pioneered text message automation to assist in managing candidate conversations and auto-unsubscribe to help recruiters stay compliant with CAN-SPAM laws.
Accelerated Growth: TextRecruit grew to 100+ customers and 1,000+ users in its first 16 months. Last year, they sent text messages to over 5MM candidates on behalf of the world's largest employers. In 2016, the company was awarded Best B2B Startup at the American Business Awards and has been featured in Inc., Entrepreneur and multiple industry publications.
Partnership Network: TextRecruit has formed integrated strategic partnerships that allow messaging directly from top applicant tracking systems such as ADP, iCIMS, Greenhouse, Jobvite, Lever, Avature, Telemetry and SmartRecruiters; job boards such as Beyond.com and Careerbuilder; and HCM's such as Workday, Oracle's Taleo and SAP SuccessFactors.
About TextRecruit: TextRecruit builds intelligent text messaging and chat tools that help the world's best employers attract talent, recruit candidates and engage employees. With customized and integrated communication solutions for teams, TextRecruit consolidates consumer messaging applications and turns them into enterprise communication platforms. For more information, follow us at @TextRecruit, on LinkedIn, or at TextRecruit.com.
About SignalFire: SignalFire is a complete redesign of the modern venture firm. Their distributed network approach gives founders access to some of the world's best entrepreneurs, product & engineering leaders in virtually every key discipline and industry, and a dedicated team of world class investors and engineers with centralized infrastructure to help with recruiting, business development, customer acquisition as well as educational & community events.
Media Contact:
Birch Faber
Marketing Director
323-440-4049
birch(at)textrecruit(dot)com