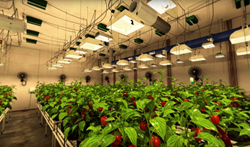 Not only is this a remarkable visual experience but it also reflects some of the latest technology and approaches to indoor gardening.
Vancouver, WA (PRWEB) February 24, 2017
It's been billed as the "ultimate grow room," and that's precisely what Sunlight Supply pushed to develop. Relying on their expertise as the world's leading distributor and manufacturer of indoor gardening supplies, Sunlight Supply produced a complete virtual grow space with propagation, veg and bloom areas using state-of-the-art equipment and technology.
"The experience is so vivid and well done it's like you can reach out and pick the peppers off the plants", commented Trey Carskadon, Director of Marketing for Sunlight Supply. "Not only is this a remarkable visual experience but it also reflects some of the latest technology and approaches to indoor gardening."
The "bloom room", for example, features a multi-spectrum lighting approach that's state-of-the-art using a combination of 1000 watt high pressure sodium and Light Emitting Ceramic® (LEC®) brand technology grow lights. Experienced growers will marvel at the attention to detail that went into developing this room.
"This visual technology meets our market head-on. You can watch it on a phone or desktop and enjoy a full 360° viewing experience. Transporting people visually into this experience the way we have is sure to fire the imagination of our customers who are passionate indoor gardeners."
The "ultimate grow room" consists of actually two rooms; the first is for propagation and vegetative growth. The second, is for bloom or "flowering".
The rooms are filled with cutting edge indoor gardening technology like Ideal Air's "Gro Sok," a new fabric air conditioning ducting system developed expressly for indoor gardening.
The viewer is taken on a tour of the rooms by a virtual tour guide who explains each area and specific technology highlights. Experienced indoor gardeners will appreciate the incredible detail throughout, from beautifully laid out rooms with lighting ballasts, environmental controls and water purification to a nutrient doser and immaculate cord management that makes replacing equipment fast and easy.
You can easily access the video through You Tube and searching, "Virtual Grow Room Experience."
Sunlight Supply promises this is the first of several interactive customer platforms that will be released over the next year. Sunlight Supply, Inc. is the world's largest manufacturer and distributor of year round gardening supplies in the world and distributes its products to more than 1,500 independent garden stores nationally. Founded in 1995, Sunlight Supply is based in Vancouver, Washington. For more information about Sunlight Supply visit: http://www.SunlightSupply.com.