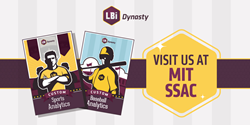 Elevate the Game!
Woodbury, NY (PRWEB) February 23, 2017
The conference, hosted by MIT Sloan, will be held March 3-4 in Boston, Massachusetts, at the Hynes Convention Center. In addition to various presentations on topics spanning the industry, the list of confirmed speakers includes Billy Beane, EVP of Baseball Operations at the Oakland A's; Jessica Gelman, CEO of Kraft Analytics; David Griffin, GM of the Cleveland Cavaliers; and Adam Silver, Commissioner of the NBA. Building on a legacy of innovation, this year's conference includes many activities that cover a variety of sports analytics interests. Attendees can participate in networking opportunities, data science presentations, a hackathon, and more.
LBi will be featuring LBi Dynasty at their booth in the Boylston Hallway of the Convention Center. LBi Dynasty is custom player and scouting analytics software for leagues and teams. Clients include MLB, NBA, NFL and 20% of Major League Baseball teams. For more information go to http://www.LBiDynasty.com.
Patrick Young, LBi's VP & Director of Engineering, will be speaking on a baseball analytics panel: "Caught in a Pickle: What's Next for Baseball Analytics" on March 4 at 3:15. On the panel with Pat will be executives from FanGraphs and Baseball Prospectus. Both companies along with LBi Dynasty are recognized as leaders in the Sports Analytics field. The panel will be moderated by Brian Kenny from MLB Networks.
About MIT SSAC
The goal of the MIT Sloan Sports Analytics Conference is to provide a forum to discuss the increasing role of analytics in the sports industry. It is the largest student-run conference in the world, attracting students from over 100 different schools and representatives from professional sports teams in the MLB, NBA, NFL, NHL, MLS, and Premier League.
About LBi Dynasty
LBi Dynasty is a sports analytics solution by LBi Software that creates superior teams through precise, customized insights succinctly delivered to club decision-makers in any format, on any device. Our custom player and scouting analytics software gives users a competitive edge and empowers general managers, coaches, and scouts to make better draft picks, signings, and trades through streamlined and accurate statistics. LBi Dynasty equips clubs and teams with customized tools they can utilize whether they're on the sidelines, in the press box, or riding the bus.