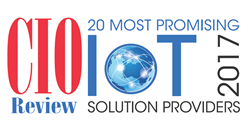 Enterprises are vigorously seeking IoT solution providers to help create new forms of value.
Fremont, CA (PRWEB) February 22, 2017
"It's a great honor to select embedUR systems as one among the 20 Most Promising IoT Solution Providers of 2017," said Jeevan George, Managing Editor of CIOReview. "embedUR systems has designed and developed several vital building blocks for enabling adaptable, reliable and cost-effective Carrier Wi-Fi and IoT platforms."
embedUR has developed IoT platform enablers to help Service Providers accelerate deployment of their IoT services and address several connectivity, scaling and deployment obstacles including On-boarding new client devices, managing the data exchange, maximizing data flexibility and ensuring scalability and resiliency.
Ranked #6 in the top 20 list, embedUR systems is also featured in the cover story. To read the report please visit: http://embedur.com/blogsandnews/embedUR-cover-top-20-IoT-Solution-Providers.html
About CIOReview
Published from Fremont, California, CIOReview is a print magazine that explores and understands the plethora of ways adopted by firms to execute the smooth functioning of their businesses. A distinguished panel comprising of CEOs, CIOs, IT VPs including CIOReview editorial board finalized the "20 Most Promising IoT Solution Providers 2017" and shortlisted the best vendors and consultants. For more info, visit: http://www.cioreview.com
About embedUR systems
embedUR systems is an embedded engineering systems firm specializing in Wi-Fi, broadband access and IoT platform enablement. Serving network and telecom equipment vendors and broadband Service Providers, they have developed everything from multi-service residential gateways to wireless access point and controller software, to mobile communications applications. Based in Silicon Valley, embedUR and has earned a loyal customer base spanning startups and F500 companies on a reputation for delivering projects on-time and on-budget. Recognized as a leading IoT solution provider, embedUR also has key software components to enable Service Providers to build device-agnostic IoT platforms that scale. For more info, visit: http://embedur.com