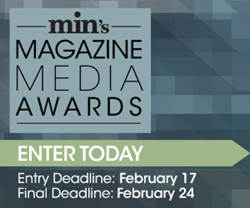 New York, NY (PRWEB) February 22, 2017
min's Magazine Media Awards salutes the year's most outstanding accomplishments across the diverse universe of magazine media. Whether it's content, design, digital, marketing or events, these awards recognize the very best of the best in media. The final deadline is Friday, February 24.
Winners and honorable mentions will be honored at an awards breakfast in New York City on June 20, 2017 alongside the honorees of min's Media People Awards.
The program has previously honored top media businesses including Bauer Media Group, Bonnier Corporation, Hearst, Meredith Corporation, Popsugar, Time Out, AARP and other exceptional brands.
Categories include:

Advertiser Program/Partnership
Column/Blog
Consumer Marketing Campaign
Content Marketing Program
Contests/Sweepstakes
Cover Design Portfolio
Custom Publishing Project
Digital Edition
Digital Excellence—Overall
E-letter Design
Editorial Excellence—Overall
Editorial Series
Event
Infographics
Lead Gen
Magazine Design—Overall
Magazine Launch
Magazine Media Brand
Magazine Redesign
Magazine Relaunch
Magazine—Single Issue
Marketing Excellence—Overall
Media Kit/MarCom Materials
Microsite/Custom Website
Most Engaged Online Community
Native Advertising Content
Online Store/Ecommerce
Podcast—Series
Social Media Excellence—Overall
Use of Facebook
Use of Instagram
Use of Photography
Use of Pinterest
Use of Snapchat
Use of Twitter
Use of Typography
Video Series
Video: Overall Use of Video
Website
Website Redesign
For a complete list of award categories, click here.
Consumer magazines, b2b publications and online-only websites are eligible to enter this prestigious awards program. Additionally, advertising agencies and corporations are welcome to enter on behalf of or with their magazine partner. Third-party partners serving the industry can also submit entries.
Any program or campaign that took place in 2016 is eligible for nomination into min's Magazine Media Awards, as well as programs ongoing in 2017.
Questions about min's Magazine Media Awards? Contact Zoe Silverman at zsilverman(at)accessintel(dot)com or 301-354-1662.
About min:
min is the industry's trusted source on the consumer and b2b magazine business, reaching thousands of media executives through print, online and in-person events. For more than 60 years, min has been serving the magazine and media community with unparalleled coverage of this ever-changing industry. For more information, visit min at minonline.com.