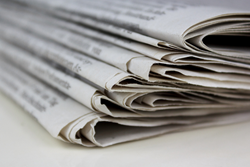 National newspapers can resurrect their print circulation by better marketing.
Naples, FL (PRWEB) March 01, 2017
A new online forum for analysis and commentary, Analizir.com, has opened, announced Leslie Norins, MD, PhD, publisher at Medvostat LLC, its parent company.
The debut analysis on the site, authored by Dr. Norins himself, claims the decline in print circulation of the "Big Three" national newspapers—Wall Street Journal, New York Times, and USA Today—can be reversed. He also presents his prescription for the turnaround.
Smartphones and digital media are convenient villains, he says, because blaming them has diverted publishers attention from necessary updating of print edition marketing.
Dr. Norins believes reading the print edition of the Big Three marks a person as "substantial", whereas a smartphone viewer could be consulting gossip, games, or even porn. "Print is positive, smartphones are iffy," he says.
He says one unsung advantage of the print edition page is its "glorious" display size, 264 square inches, versus the 13 square inches of his iPhone screen. Thus, print's big page facilitates "serendipity", which occurs when the reader's peripheral vision unexpectedly notes nearby important, profitable articles on other subjects.
He prescribes better marketing, including ads quoting millennials who benefit from the print edition, plus hiring "influencers" to tout the special advantages of this format.
Dr. Norins also reports he found it difficult to find the Journal and Times on sale in Brooklyn, "in the backyard" of the Manhattan headquarters of the two papers.
Dr. Norins has over 40 years' publishing experience creating and growing over 80 subscriber-paid newsletters serving medical professionals. Before the publishing phase of his career, he was a physician-researcher. He received his AB from Johns Hopkins, his MD from Duke University Medical School, and his PhD from University of Melbourne, where he studied with Sir Macfarlane Burnet, Nobel Laureate.