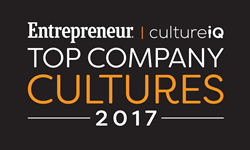 This award is proof that Lessonly's commitment to attracting, developing, and retaining talented employees is a key driver behind our continued innovation and rapid growth. — Max Yoder, CEO and Co-founder
Indianapolis, Indiana (PRWEB) February 23, 2017
Lessonly, the leading team learning software, has been named one of the Best Company Cultures in the United States by Entrepreneur and CultureIQ. This year's list, a comprehensive ranking of US-based businesses exhibiting high-performance cultures, is comprised of the top 50 companies, with Lessonly ranking in the top 3. Lessonly is recognized for creating an exceptional culture that drives employee engagement, exceeds employee expectations, and directly impacts company success.
"Providing a great product and learning solution for our customers starts with hiring the best people and fostering their growth in a challenging and rewarding work culture," said Lessonly CEO and co-founder, Max Yoder. "Sharing before we're ready, having difficult conversations, and critiquing in love—these are the values that the Lessonly team lives and breathes. And this award is proof that Lessonly's commitment to attracting, developing, and retaining talented employees is a key driver behind our continued innovation and rapid growth."
The full list, presenting a total of 153 companies categorized as small, medium-sized, or large companies is available on Entrepreneur.com. Core insights, behaviors, and attributes that have helped to shape the high-performing cultures presented by the top companies are shared alongside practices to help other companies develop their own workplace environments.
"A high-performance culture leads not only to employee engagement but also to measurable business results," says Greg Besner, founder and CEO of CultureIQ. "These organizations show us that great companies start with great culture."
A weighted ranking of the 50 small-sized companies named as "Best Company Cultures" appeared on Entrepreneur's website, http://www.entrepreneur.com, on February 21, 2017 and in the March 2017 issue of Entrepreneur magazine. To view Lessonly in the full ranking, visit entm.ag/TopCultures.
About Lessonly
Lessonly is modern learning software used by over 350 teams to translate important work knowledge into Lessons that accelerate productivity. More than 500,000 learners at companies like Birchbox and Trunk Club trust Lessonly to do better work. Sales and support teams around the world use Lessonly's software to transform work knowledge, engage their teams, accelerate employee performance, and measure the business impacts of team learning. Lessonly is backed by some of the nation's leading venture capital firms, including OpenView Venture Partners and High Alpha Capital.
Learn more at Lessonly.com.
Follow us on Twitter at @Lessonly and like us on Facebook at facebook.com/lessonlyapp.
About Entrepreneur Media, Inc.
For nearly 40 years, Entrepreneur Media Inc. has been serving the entrepreneurial community providing comprehensive coverage of business and personal success through original content and events. Entrepreneur magazine, Entrepreneur.com and publishing imprint Entrepreneur Press provide solutions, information, inspiration and education read by millions of entrepreneurs and small business owners worldwide.
To learn more, visit entrepreneur.com.
Follow us on Twitter at @Entrepreneur and like us on Facebook at facebook.com/entmagazine.
About CultureIQ
CultureIQ is a platform that enables organizations to make positive, measurable changes to their culture, and a community that connects peers and experts around the topic of culture. The CultureIQ platform helps companies actively manage their culture through an ongoing process of collecting, understanding and responding to internal feedback to drive employee engagement, retention and success.
Based in New York City, CultureIQ was founded in 2013 by Greg Besner, an adjunct professor at New York University Stern School of Business and one of the original investors in Zappos.com. CultureIQ is backed by a group of notable investors including Lerer Hippeau Ventures, Pritzker Group Venture Capital, Founder Collective and Zappos.com CEO Tony Hsieh's VTF Capital.
For more information, visit http://www.cultureiq.com, follow us on Twitter at @CultureIQ and like us on Facebook at facebook.com/CultureIQ.