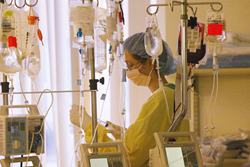 The Patient Context is Irrelevant: When reporting on an airline crash involving 350 passengers, the airline industry reports 350 deaths, not 348 because two of them had a terminal illness and would have died anyway.
Lexington, Kentucky (PRWEB) February 22, 2017
In a recent article published in the Journal of Patient Safety, patient advocates stress that the patient context (age, illness and life choices) should be dissociated from medical errors and preventable mortality and not used as reasons to mitigate their occurrence. In addition, all too often, studies regarding health system performance in other countries, such as Canada and England with centrally controlled, uniform healthcare systems are extrapolated to the disjointed non-centralized system of the United States.
Dr. Kevin Kavanagh, lead author and Board Chairman of Health Watch USA, stressed that their calculations of preventable hospital-related mortality were based upon two well-controlled studies and are in line with other researchers. The authors' calculated an annual rate of 163,156 preventable hospital deaths each year in the United States. When combined with diagnostic errors, non-captured events and deaths after hospitalization, it can be projected to approximate 200,000 preventable deaths annually.
The authors' stated: "Advocates are not calling to prevent problems for which solutions are not known but calling to implement known solutions to prevent all too common problems. What ties the occurrence of preventable adverse events and mortality together is the willingness and determination of facilities to adopt a culture of safety and invest in patient safety."
"Even if the (preventable hospital mortality) rate from medical errors is not the 163,156 that we have projected but is as low as the 25,000 per year based on the United Kingdom's NHS data, that equates to approximately 5 potentially preventable deaths per year per hospital in the United States or 1 every 2 to 3 months. In addition, one could argue that this figure should be doubled by accounting for deaths from diagnostic errors. In what other industry would such a record be tolerated, let alone defended? Would the airline industry and public ever tolerate even a single preventable airline crash? We can and must do better."
View YouTube Video: https://youtu.be/ktjh8EmO9QU
Download Article on Preventable Hospital Mortality: http://journals.lww.com/journalpatientsafety/Abstract/2017/03000/Estimating_Hospital_Related_Deaths_Due_to_Medical.1.aspx