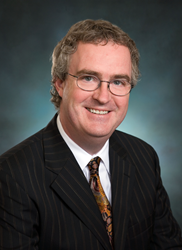 RENO, Nev. (PRWEB) February 22, 2017
Sean McGuinness, a partner in the law firm of Lewis Roca Rothgerber Christie LLP, has been named regional vice president of the Irish Network USA, an umbrella business and economic development organization with chapters across the United States.
McGuinness is a founding member of the Nevada chapter, and will now also be involved with chapters in Seattle, San Francisco, San Diego and Portland in order to facilitate communications among these chapters.
Practicing out of Lewis Roca Rothgerber Christie's Reno, Las Vegas and Denver offices, McGuinness focuses primarily on gaming law. He was a featured panelist in London this month during the International Masters of Gaming Law ("IMGL") Masterclass and recently co-chaired the IMGL gaming law conference in Dublin, Ireland.
"Ireland stands to gain from Brexit if it updates its gaming laws." said McGuinness. "Many U.S. gambling companies locate their European offices in London as their portal to the EU," he said. "If the Irish government figures out its gaming legislation, that could be a great opportunity for them."
McGuinness has submitted comments to the Irish government concerning their pending gaming law reform initiative. Outside of this involvement, he represents gaming clients in Nevada, Colorado, Iowa and Mississippi.
Irish Network USA is the national umbrella organization integrating chapters in various locations across the United States. It allows members of the networks to connect with their peers and to develop relationships that will foster success in their business, economic, cultural and sports ventures.
Its mission is to bolster business opportunities and economic development between the United States and Ireland; to support and encourage Irish Arts and Culture through film, literature, theater, dance and language; to encourage and promote the mission and expansion of Irish sports, throughout the U.S.; to support the efforts of local Irish organizations and associations; to serve as a conduit between newly arrived Irish immigrants and their communities in member cities and states.
About Lewis Roca Rothgerber Christie LLP
Lewis Roca Rothgerber Christie LLP is an Am Law 200 commercial law firm for handling complex matters in litigation, intellectual property, business transactions, gaming, government relations and other practice areas. Lewis Roca Rothgerber Christie offices are located in Albuquerque, Colorado Springs, Denver, Las Vegas, Los Angeles, Irvine, Phoenix, Reno, Silicon Valley and Tucson. For more information, visit http://www.lrrc.com.