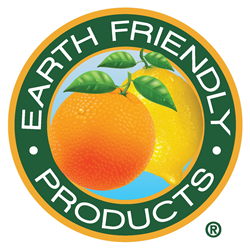 Cypress, CA (PRWEB) February 21, 2017
Earth Friendly Products, the maker of ECOS™ environmentally friendly laundry detergent and household cleaners, is partnering with Red Carpet Green Dress in honor of its 8th annual campaign, bringing green cleaning to sustainable fashion.
Red Carpet Green Dress works with designers from around the world to create sustainable eveningwear to showcase during the Academy Awards® each year. The campaign was created in response to the growing need for sustainable fashion, and it communicates the message of environmental awareness to a global audience.
Critically acclaimed actresses Emma Roberts and Priyanka Bose will be supporting Red Carpet Green Dress this year. Priyanka Bose is an internationally celebrated model/actress who plays "Kamla Munshi" in the feature film "Lion" alongside Dev Patel, currently nominated for six Academy Awards, including "Best Motion Picture of the Year." Emma Roberts is an undeniable talent known for her diverse roles in films such as "Palo Alto," "We're the Millers," and the upcoming "Billionaire Boys Club." Roberts currently stars as 'Chanel Oberlin' in the Fox comedy-horror series "Scream Queens," from the minds of "Glee" creators Ryan Murphy, Brad Flachuk, and Ian Brennan.
"I am proud to have Earth Friendly Products partner with Red Carpet Green Dress for the third year in a row. They have been so generous to our cause and spreading the message of sustainable living. It's inspiring to see the impact they have had on the world, and I know that together we can continue the dialogue about sustainable living in fashion, in products, and in the way we live," says Suzy Amis Cameron, founder of the Red Carpet Green Dress campaign.
ECOS™ Laundry Detergent is the perfect choice for both fashion garments and everyday clothing. Made with plant-powered ingredients, ECOS™ laundry detergents are hypoallergenic and gentle on skin, yet highly effective at removing stains and odors from clothing while protecting delicate garment fibers.
"We're so thrilled to join this campaign that brings the importance of more sustainable fashion practices to the world's attention during Oscar week. I've always admired Suzy's tireless commitment to sustainability, and I'm so excited to see the breathtaking designs that Red Carpet Green Dress will produce this year at the Academy Awards," says Kelly Vlahakis-Hanks, Earth Friendly Products' president and CEO.
Vlahakis-Hanks adds, "Our partnership with Red Carpet Green Dress is especially meaningful to me because of their commitment to incorporating sustainability into education. We teach thousands of schoolchildren each year about safer green chemistry with our ECOScience program, partnering with museums across the U.S. Like Suzy, we understand that we're raising future stewards of the Earth, and we want to give them the tools they'll need to protect their health and the health of our precious planet."
ECOS™ cleaners are produced in the U.S. in carbon neutral, water neutral, and Platinum Zero Waste-certified facilities. ECOS™ laundry detergents are among the over 100 Safer Choice-certified products made by Earth Friendly Products. U.S. EPA Safer Choice certification guarantees that every ingredient in the product is the safest in its class and that it has been tested for superior performance.
2017 marks the 50th anniversary of the family-owned and –operated company. Earth Friendly Products will be celebrating throughout the year, highlighted with VIP celebrations at its four facilities across the U.S. in the month of April, in conjunction with global Earth Day celebrations.
With the support of Earth Friendly Products and other partners, including Atelier Swarovski, and annual contests held by Red Carpet Green Dress, financial security is provided to MUSE School CA, an environmental non-profit educational organization Amis Cameron founded in Calabasas, Calif., with her sister Rebecca Amis. This assistance enables students to access a transformative educational experience. MUSE School CA ensures small class sizes, personalized instruction, and learning practices, all set within an inspiring and beautiful campus. Through these key elements, MUSE School CA paves the way in creating leaders of the future. For more information, go to http://www.museschool.org.
For more information about ECOS™ products, please visit http://www.ecos.com/.
###
ABOUT EARTH FRIENDLY PRODUCTS
Family owned and operated since 1967, Earth Friendly Products is the maker of ECOS™ Laundry Detergent and over 200 other environmentally friendly products that are safer for people, pets and the planet. Made with plant-powered ingredients, ECOS™ cleaners are thoughtfully sourced, free of dyes, pH balanced, readily biodegradable, easily recyclable and never tested on animals. Earth Friendly Products is a primary manufacturer that makes its own products in sustainable manufacturing facilities located across the U.S. All Earth Friendly Products facilities are carbon neutral, water neutral and Zero Waste Platinum certified, saving over 53 million pounds of carbon dioxide annually and diverting over 95% of all waste from landfills. Over 100 ECOS™ products have received the coveted U.S. EPA Safer Choice certification, which means that every ingredient is the safest in its class and that the product has proven superior performance. ECOS™, Disney Baby ECOS™, ECOS for Pets! and ECOS™ Pro cleaners are available at selected major retailers throughout the U.S., in over 60 countries and online at ecos.com and babyecos.com.
ABOUT RED CARPET GREEN DRESS
Red Carpet Green Dress is an internationally recognized organization that combines the worlds of fashion and sustainability. Currently in its eighth year, the campaign was conceived by Suzy Amis Cameron during the press tour for her husband, James Cameron's film "Avatar." Her hope is to draw attention to the importance of more sustainable practices in fashion by challenging designers from around the world to think about fashion in an eco-friendly context. The campaign also raises funds for MUSE School CA, a non-profit educational organization that Amis Cameron co-founded in Calabasas, Calif.
MEDIA CONTACT:
Tricia Kent
(772)633-8337
tricia(at)ecos(dot)com