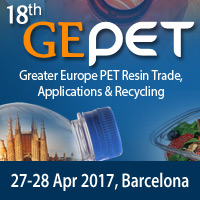 Brand owners and retailers are driving the circular economy campaign and encouraging the entire PET packaging value chain to adapt to this change with sustainable innovations
Barcelona, Spain (PRWEB) March 07, 2017
Brand owners and retailers are driving the circular economy campaign and encouraging the entire PET packaging value chain – converters, sheets and thermoform tray producers, preform makers to adapt to this change with sustainable innovations. Major resin producer Equipolymers' Commercial Director Antonello Ciotti, leads with session on 'Impact of circular economy on PET European market'. Joining him is Jose Antonio Alarcon, Chief Sales Officer, Selenis – that recently rebranded themselves to emerge stronger, delivering a talk on copolyesters while PCI Wood Mackenzie's David Swift will be sharing the 'Global PET market outlook, pricing trends & key drivers for rPET'.
A key session on 'China: The global PET & Polyester Powerhouse' will be delivered by Jiangsu Sanfangxiang Group.
European PET value chain players showcasing their PET technologies include –

Extrapolymers on EcoIberia's new food grade rPET flakes and applications from thermoforming to injection
Coveris on Investing into rPET Thermoforming – Innovating to reduce our carbon footprint
Caiba on Adapting to PET market growth & entering new market segments
Envaso Innova on New PET innovation in the beverage packaging market
Side on Moving from HDPE extrusion blowmolding to PET single blowmolding systems with substantial cost savings
Point Plastic on the Breakthroughs in high temperature resistant A-PET for packaging applications
Coopbox Group on Capturing opportunities in the growing fresh food and food-to-go market & expansion plans in Spain
Linpac on the Manufacturing technologies for monomaterial based packaging solutions: a step towards a circular economy
Other vital sessions are – Royal Apple on its natural juices packaged in PET cans, 'Outlook for European markets and economy with focus on the Iberian region' by Oxford Economics, 'Update on Bio-MEG and electrochemical CO2 to chemicals' by Avantium Chemicals, 'Building partnerships along the PEF value-chain' by Synvina and 'A new look into highly modified copolyesters – PETG Properties and applications' by K-PET Consulting.
Organized by Centre for Management Technology (CMT), the event has Viscotec as its Networking Reception Sponsor and GUT as an Exhibitor.
View 18th GEPET website or call Ms. Hafizah at +65 6346 9218 for more information.