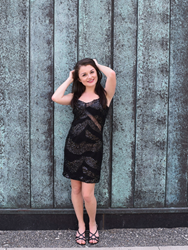 Catherine Skye and Trinitty perform their original music for their fans in Oakville, Ontario
Toronto, Ontario, Canada (PRWEB) February 22, 2017
Canyon Entertainment Group is proud to announce that two of our artists, Trinitty and Catherine Skye, will be performing with the legendary Shelley Budd at Oakville's own Moonshine Cafe on February 22nd.
Trinitty is a young Pop and R&B songstress who has the ability to deliver emotion, not just with her tone, but also with the lyrics conveyed in her music. She has reached #1 on the Radio Indie Alliance for her song, 'Yesterday,' off of her upcoming EP, On My Own. The EP is a coming-of-age story that reflects on aspects of growing up and realizing ways of coping with rejection, to move to a point of understanding and hope. The video was recently featured on the German music program, Topafric in February 2017, airing before an audience of 500,000 homes. Check out the video for 'Yesterday' on Trinitty's personal page HERE.
Here's what Kendra Beltran of Indie Music Reviews had to say about the Toronto native: "She has an innocent pop sound that is comparable to a young Kelly Clarkson and Victoria Justice ... Trinitty has a soulful gift and her notes carry more weight than processed pop. She has the vocal talents to make you take note and within one listen you'll have "Yesterday" on repeat."
Catherine Skye is a rising star in the Toronto-area music community who was featured as part of the Landmark Showcase Festival at Revival Bar in Toronto last month. From a very young age, Catherine was captivated by the performing arts, with a passion to incorporate an artistic expression in everything she touches.
Having grown up seeing live musicals in Toronto, Catherine is driven to emulate the greatness and creativity she has seen in the performers on stage. With a vibrant, lively and energetic approach to music, she blends a number of musical inspirations to put a new spin on the Pop genre, including R&B, Jazz and EDM, to come up with her own, unique sound.
Recently, Catherine reached #8 on the Radio Indie Alliance, Kingston Q108. Catherine was also chosen this past summer to compete at the 2016 CNE Rising Star Talent Competition where she received feedback that she is a 'natural performer'. While she's made waves with her covers of artists such as Amy Winehouse and Meghan Trainor, her premiere original single, 'Off the Ground,' is sure to put her on the map. Check out the lyric video for 'Off the Ground' HERE.
You can see Catherine and Trinitty in person at their show at the MOONSHINE CAFE.
Wednesday, February 22, 2017 -- ALL AGES EVENT, $5 Cover Charge
Doors Open @ 7:00PM
The Moonshine Cafe
137 Kerr Street Oakville, ON L6K 3A6
(905) 844-2655
Check out Trinitty's ReverbNation, YouTube, and SoundCloud pages, and her personal website.
Check out Catherine Skye's ReverbNation, YouTube and SoundCloud pages, and her personal website.