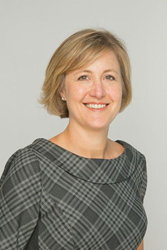 Reston, Virginia (PRWEB) February 22, 2017
Toffler Associates, a leading future-focused consulting and advisory firm, has hired industry veteran Maria Bothwell as chief operating officer. She joins a recently expanded leadership team led by CEO Deborah Westphal and will be responsible for overseeing client relations and leading key business development initiatives.
"We're very excited to welcome Maria to Toffler Associates," said Westphal. "Her deep experience driving business performance and growing new business complements an already strong and energetic team and will be instrumental to our continued revenue growth, particularly with enterprise clients."
Prior to joining Toffler Associates, Bothwell led strategic development, transformation and performance improvement initiatives in more than a decade with management consulting firm North Highland. Most recently, she was a managing director there, overseeing media, entertainment, and communications industry. As the division president, she led the Data Analytics and Sparks Grove (strategic marketing) divisions, directly contributing to the profitability and growth of the businesses. Additionally, Bothwell was the executive advisor to the Managing Services division during its U.S. expansion. Her prior experience includes management consulting with Arthur Andersen Business Consulting and Ernst & Young.
Bothwell earned a B.S. in Industrial Engineering and Operations Research as well as an MBA from Virginia Tech, and serves as an advisory board member for the ISE department. She also holds a certificate of cuisine from Le Cordon Bleu Paris and actively volunteers as a cook to feed the hungry.
"Toffler Associates has an impressive track record of helping clients navigate today's complex global landscape and chart sustainable growth," said Bothwell. "I'm thrilled to be part of such a talented and committed team, and look forward to expanding our future-focused services to global brands that will benefit from them."
About Toffler Associates
Clients turn to Toffler Associates to capitalize on opportunities and mitigate the challenges of an uncertain future. We are a consulting and advisory firm that delivers strategic advantage to organizations around the globe with an unwavering commitment to being the catalyst for change. Both the public and private sectors rely on Toffler Associates' unique perspective, disciplined approach and orthogonal thinking to architect better futures.