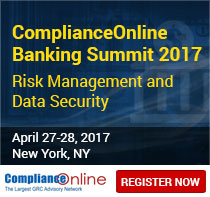 ComplianceOnline Banking Summit 2017 | Risk Management and Data Security" - Summit attendees are eligible for 16.8 CPE credits upon completion of training.
Palo Alto, CA, USA (PRWEB) February 22, 2017
ComplianceOnline, the leading governance, risk and compliance advisory network with over 1500 experts in various regulatory subjects has announced its Banking Summit 2017 venue and speaker lineup. The Summit will take place on April 27 and 28, 2017 at the Roosevelt Hotel, NYC in New York, U.S.
The Roosevelt Hotel, which is located at 45 East 45th Street & Madison Avenue, will be a comfortable yet invigorating backdrop for an exciting mix of discussions, talks and breakout sessions.
The two day event will feature a range of inspiring keynote speakers including Steve Nasalroad - Head of Internal Audit at Trust Company of America, Adam Kerns - Assistant General Counsel at American Insurance Association, Sean Gardner - Social Media Producer at Twin Star Credit Union and Janardhan Cadambi - Chief Franchise Development Officer at MasterCard.
Register for early bird tickets to one of the largest gatherings of banking industry experts this year.
Based on the theme " Risk Management and Data Security" the 2 day event will feature 4 Keynotes, 10 impactful track sessions, 4 stimulating panel discussions and over 300 minutes of networking. This Summit will discuss numerous banking regulations and will feature key topics including risk innovation, modelling and simulation, cybersecurity, mortgage fraud and much more.
Some of our distinguished Banking Summit 2017 speakers include:

Rohit Bedi, Senior Vice President & Executive Leadership at MetricStream
Shaun Miller, Director at Veritas Fincrime Consulting
Mario Mosse, President at MMosse Consulting, LLC, Former Vice President at Chase Manhattan Bank
Marc Perl, Owner at Teknowlogy Associates & Consultant, VISA
Armen Khachadourian, President and Founder at Digital Payments LLC
Peter Goldmann, MSc, CFE, CFCI, President at FraudAware LLC
Michael C Redmond, Lead Strategic Consultant at EFPR Group LLP
Peter Whyntie, BEc, Dip CM, FGIA, FCIS, ICCP Fellow, GAICD, Director & Principal Consultant at Peter Whyntie & Associates
Doug Johnson, Senior Vice President and Chief Advisor at American Bankers Association
Karen L Garrett, Partner at Stinson Leonard Street LLP
Rayleen M Pirnie, CEO at RP Payments Risk Consulting Services LLC
David M. Long, JD,CFE, Associate Professor of Criminal Justice and Legal Studies at Brandman University
In addition to illuminating keynotes, the event will feature panel discussions, focused workshops, and exhibitor's stalls.
The Banking Summit 2017 has been made possible with the support of its event partners, including MetricStream - Platinum Sponsor, KPMG – Knowledge Partner, GBAF Publications Ltd and BayPay Forum – Media Partners.
New York promises to be a great location for the summit, offering world-class dining and attractions, built on a rich history and unique culture. With hundreds of daily flights to international locations, and a thriving downtown, New York will not disappoint.
Dates: Thursday, April 27, 2017 (8.00 AM- 4.45 PM) and Friday, April 28, 2017 (8.00 AM- 4.30 PM)
Location: New York, NY
Registration Cost: $1,499.00 per registration
Early bird discounts: For discounts on early registrations, please click here.
Register by phone: Please call our customer service specialists at +1-888-717-2436 or email to customercare(at)complianceonline(dot)com
About ComplianceOnline
ComplianceOnline is a leading provider of regulatory compliance trainings for companies and professionals in regulated industries. ComplianceOnline has successfully trained over 35,000 professionals from 9,000 companies to comply with the requirements of regulatory agencies. ComplianceOnline is headquartered in Palo Alto, California and can be reached at http://www.complianceonline.com. ComplianceOnline is a MetricStream portal. MetricStream (http://www.metricstream.com) is a market leader in Enterprise-wide Governance, Risk, Compliance (GRC) and Quality Management Solutions for global corporations.
For more information please contact:
A Reuben Bernard
Associate Director - ComplianceOnline
2479 East Bayshore Road
Suite 200, Palo Alto, CA 94303
Phone - +1-650-238-9656 | +1-888-717-2436
Fax - 650-565-8542
Mail: reuben(at)complianceonline(dot)com
Website: http://www.complianceonline.com