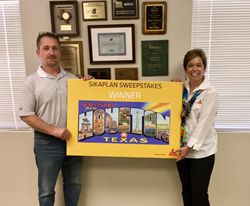 Canton, Massachusetts (PRWEB) February 23, 2017
Sika, the worldwide market leader in thermoplastic roofing and waterproofing membranes, is pleased to announce the winner of its first-ever "Trip of a Lifetime" Sikaplan Sweepstakes. Jeremy Jackson of Marton Roofing, Inc., in Houston was the randomly-selected winner of the prize from United Vacations.
Over a five-month span from August to December of 2016, Jackson was one of thousands of Sika authorized applicators from across the country to submit a quote request using Sikaplan roof membrane on an upcoming project.
"This was a really fun contest for us to run here at Sika," said Bill Bellico, Director of Marketing for Sika Roofing. "We were excited to see so much participation from our customers and we're looking forward to seeing where in the world Jeremy chooses to go with his prize!"
Sikaplan is a cost-competitive, single-ply PVC roofing membrane designed for low-slope roofing applications. It is ideal for applications that call for a proven, cost-effective roofing system from the world's most trusted commercial roofing supplier. Sikaplan offers PVC performance at a TPO price.
Sikaplan has a successful track record of more than 30 years on buildings throughout the world. And like all Sika PVC roofing and waterproofing membranes, Sikaplan seams and flashings are hot-air welded using an automatic hot-air welding machine. When welded together, the sheets of membrane become one monolithic layer of material impervious to water and moisture infiltration.
Sika Roofing would like to thank Mr. Jackson, Marton Roofing and the rest of its approved applicators who participated in the contest. Stay tuned for the 2017 sweepstakes.
To learn more about Sikaplan, please click here or call 800-576-2358.
SIKA AG CORPORATE PROFILE
Sika is a specialty chemicals company with a leading position in the development and production of systems and products for bonding, sealing, damping, reinforcing and protecting in the building sector and the motor vehicle industry. Sika has subsidiaries in 93 countries around the world and manufactures in over 170 factories. Its approximately 17,000 employees generated annual sales of CHF 5.49 billion in 2015. For more information about Sika Corporation in the U.S., including Canton, Mass., visit usa.sarnafil.sika.com.