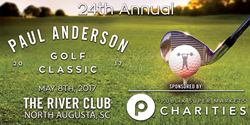 Our events play a key role in the advancement of PAYH, providing our young men with unique opportunities to grow and share with others. -Victoria Shuman
Vidalia, Georgia (PRWEB) February 27, 2017
The 24th Annual Paul Anderson Golf Classic will take place on May 8th, 2017, in North Augusta, South Carolina. Hosted by the Paul Anderson Youth Home of Vidalia, Georgia, this will be the 16th installment of the golf tournament at The River Club.
The Paul Anderson Youth Home has served more than 1,200 young men since its inception 55 years ago. Since 1994, the Paul Anderson Golf Classic has impacted the lives of the young men who attend the youth home as a major supporting arm of its operation.
Golfers will tee off for this 4-man scramble at 8 AM and 1 PM. Additionally, a putting competition in which players can win additional, unique prizes will be ongoing throughout the day. Donors and supporters from around the country will join together to enjoy a day of golf and fellowship.
Immediately after the golf tournament, young men from PAYH will begin training for the annual Paul Anderson Bike Ride on July 17th - 22nd, 2017. A group of riders from the home will bike more than 500 miles in their mission for recovery. This event pays homage to Mr. Anderson's original ride; in 1961 Paul rode from Vidalia, GA, to Omaha, NE, on a 1,350-mile journey to raise funds to start the home. One of the first places on his route was the original Dwarf Grill, owned by eventual Chick-fil-A founder Truett Cathy. Mr. Cathy was moved by Paul's mission, invited him in to eat, and wrote him a check, becoming the youth home's first donor. Since that day, the bond between PAYH and Chick-fil-A has remained strong and fruitful.
"Our events play a key role in the advancement of PAYH, providing our young men with unique opportunities to grow and share with others. Last year, during our annual bike ride event, I witnessed this first-hand as these young men pushed themselves to the limit, cycling 500 miles over the course of 6 days. I was struck by the growth in their confidence and maturity as they battled each day to accomplish something they never thought possible!" explained Victoria Shuman, PAYH's Advancement Officer.
As PAYH receives no state or federal funding, these events directly benefit the young men enrolled in the program. Thanks to the funds provided by these events, as well as private donations, each young man receives a scholarship offsetting approximately 70% of the program's cost.
What: 24th Annual Paul Anderson Golf Classic
When: May 8th, 2017, at 7:30 A.M.
Where: The River Club, 307 Riverside Blvd., Augusta, SC
Cost: $175 per person or $700 per team
For more information on how to register or become a sponsor for the tournament, please visit payh.org/golf or call Victoria Shuman at 912-537-7237
About Paul Anderson Youth Home
Since 1961, the Paul Anderson Youth Home provides a sanctuary for troubled young men ages 16-20. Founded as an alternative to juvenile correctional facilities, the program helps young men overcome addiction and unhealthy lifestyle patterns by placing emphasis on physical work and play, rigorous academics, and restored relationships with God, their families, and society. The PAYH also equips families to detect and respond to troubled behavior. To learn more about the PAYH and family resources, visit: payh.org.