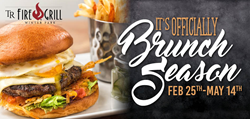 Available on a first-come, first-serve basis to 500 guests, Passholders can enjoy early access to Brunch Season specials and events, as well as exclusive brunch offers, including earning a free brunch entrée after dining four times during Brunch Season
ORLANDO, Fla. (PRWEB) February 22, 2017
Romacorp, Inc., parent company of TR Fire Grill, announces its official declaration of Brunch Season with an exciting kickoff event taking place on Saturday, February 25 and Sunday, February 26. Football fans, listen up! While the season may be over, as Winter Park's authority on brunch, TR Fire Grill is making sure Saturdays and Sundays are still a reason to celebrate. While sipping endless Mimosas and enjoying their favorites from the brunch menu, guests this weekend will have the opportunity to score TR Fire Grill's exclusive Brunch Season Pass and special Kickoff offers including free menu items and unique brunch experiences. Brunch Season at TR Fire Grill officially begins on February 25 and runs through the biggest "Brunch Bowl" day of the year, Mother's Day, on Sunday, May 14.
"Guests already love spending their weekends enjoying TR Fire Grill's outstanding brunch menu, including favorites like our Southwest Eggs Benedict, Chicken & Waffles and endless Mimosas," said Stephen K. Judge, President and Chief Executive Officer of Romacorp, Inc. "Our Brunch Season Pass will enhance their brunch experience and take the fun to a whole new level. From being able to jump to the front of the line and enjoy our signature house-smoked jalapeno-infused Bloody Mary to having the chance to score free brunch for their friends, we're excited to be the first to declare an official Brunch Season."
As if the chance to feast on TR Fire Grill's infamous "½ Pound Sunday Morning Burger" and Flank Steak & Eggs isn't enough, all brunch guests will receive a surprise offer during this weekend's Brunch Season Kickoff event. With the chance to win prizes that vary from handcrafted chocolate-dipped Wonuts for the table, complimentary brunch for four, or a VIP champagne experience, guests will continue to feel the brunch love long after their honey tangerine Mimosa bubbles have disappeared. This Saturday, guests at the Kickoff event will also have an opportunity to snag free tickets to Orlando Weekly's March 18th United We Brunch event. And on Sunday February 26, as the official voice of Brunch Season, the Tuck & O'Neill Show from Sports Talk WHOO AM 1080 will broadcast a live bonus show from TR Fire Grill from 11a.m. to 1p.m, where they will be handing out tons of prizes.
"TR Fire Grill isn't waffling around when it comes to Brunch Season," said Jim Rogers, Chief Marketing Officer of Romacorp, Inc. "Available on a first-come, first-serve basis to 500 guests, Passholders can enjoy early access to Brunch Season specials and events, as well as exclusive brunch offers, including earning a free brunch entrée after dining four times during Brunch Season. Passholders will feel like the MVPs of brunch with the ability to jump the waitlist without a reservation for parties of five or less."
TR Fire Grill's signature brunch is available every Saturday and Sunday from 11a.m. to 2p.m., and on Monday during most holiday weekends. The menu features endless Mimosas for only $11 and boldly brilliant dishes, such as the popular "Chicken & Waffles," with white Wisconsin cheddar and bacon dust, Red Velvet Pancakes and the "1/2 Pound Sunday Morning Burger" featuring deliciously fresh ingredients with daring flavor. Guests are also invited to enjoy "Yappy Days" on the patio during the weekend, with special chef-made treats for their four-legged friends.
About Romacorp, Inc.
Romacorp, Inc. is the parent company of TR Fire Grill, a new chef-inspired American bistro located in Winter Park, Florida and Honolulu, Hawaii, with an additional location planned for Kuala Lumpur, Malaysia later in 2017. Launched in November 2015, TR Fire Grill is an award-winning restaurant recognized as Best New Restaurant (2016 Winter Park Maitland Ovations Award), Best Craft Cocktail Bar (2016 Orlando Sentinel Best Bets Award), Best Happy Hour (2017 Winter Park Maitland Ovations Award) and for Best Cuisine in Orlando (2015 and 2016 OpenTable Awards). TR Fire Grill is a proud partner of the Orlando Magic (http://www.nba.com/magic/) and with the Make-A-Wish Foundation (http://www.cnfl.wish.org), one of the world's leading children's charities chartered to grant the wishes of children with life-threatening illnesses across Central and Northern Florida. For more information about Romacorp, Inc. and our new TR Fire Grill concept, visit http://www.trfiregrill.com.
For more information about TR Fire Grill franchising opportunities, please visit http://www.trfiregrillfranchise.com or call (866) 981-0586.