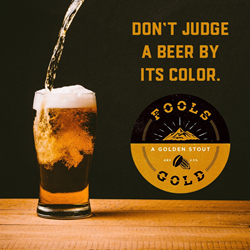 Orlando, FL (PRWEB) February 24, 2017
Craft a Brew, maker of premium home beer-brewing kits, releases its newest homebrew recipe this week: Fool's Gold - a Golden Stout.
The non-traditional Golden Stout beer style is a contradiction in a glass, as stouts are traditionally jet black in color. At first sight, Fool's Gold pours and looks like a blonde ale, but at first sip, the beer shows its true colors as a stout.
Craft a Brew is releasing its Fool's Gold homebrew kits and recipe kits with enough time for homebrewers to make and enjoy their beer by April Fool's Day. The finished product is the perfect prank in a glass.
Pale smoked malts and flaked oats give Fool's Gold the classic flavor and full body of a stout without darkening the appearance. The Ecuadorian cacao nibs and Nicaraguan coffee beans included with each kit give this beer rich, roasted aromas and a touch of sweetness.
Craft a Brew's Fool's Gold recipe is available in a full brewing kit, including equipment to make one gallon of beer, for first time home brewers ($48) and in one and five gallon recipe kits, including ingredients alone, for brewers with their own equipment ($18, $50) at CraftaBrew.com.
About Craft a Brew: Craft a Brew is on a mission to turn craft beer lovers into craft beer brewers with its premium home brewing kits, which are designed to help novices and enthusiasts alike make the best possible beer in their own kitchens, right out of the box. Founded in 2010, Craft a Brew has spent years perfecting its easy-to-use kits, sourcing the freshest ingredients and assembling each kit by hand in Orlando, Florida. Craft a Brew currently offers 18+ beer styles, including a gluten-free ale and a hard cider making kit, along with its innovative Catalyst Fermentation System and new Make Your Own Wine Kits, among other brewing accessories at http://www.CraftaBrew.com.