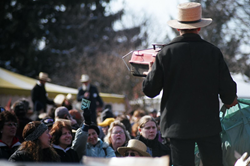 A cultural twin-bill of community auctions and top-shelf theater.
Lancaster, Pa. (PRWEB) February 22, 2017
Lancaster's unique Amish "mud sales" season starts this coming Saturday, February 25th. Double the fun by combining this one-of-a-kind experience with the entertainment of a new show at some of the area's well-known theaters.
You can't get more authentic in Lancaster County than its annual Amish "mud sales," which take place primarily from late February through mid-April (a few in May, June, & August) on Saturdays in small towns all over the county (typically 8am-2pm).
Named for the condition of the thawing ground in late winter / early spring, these community auctions benefit local fire companies and provide a wonderful opportunity to mingle with our Amish neighbors as they help to run the sales or enjoy a fun day themselves, full of great deals and PA Dutch eats.
You can buy everything there, including the kitchen sink, and all of it sold at up to six simultaneous auctions at various locations 'round the grounds and firehouse, which makes for a truly captivating experience (SHORT VIDEO).
And this year, make it a cultural twin-bill by also taking in a new show at one (or more!) of Lancaster's many and diverse theaters:

PRiMA Theatre's production of "Tick Tick Boom," Mar. 3-18 – an autobiographical pop-rock musical by the creator of "Rent"
"Jonah," Sight & Sound Theatres®, Mar.11-Oct. 14 – an inspirational story about the power of redemption, mesmerizing with its upbeat original music, fantastic sets, & dazzling special effects
"In The Heights," Fulton Theatre, Mar. 14-Apr. 2 – a close-knit community dreams big in the first hit production from Lin-Manuel Miranda, creator of the Broadway phenomenon "Hamilton"
"My Fair Lady," Dutch Apple Dinner Theatre, Mar. 23-May 14 – an energetic production of this classic clash of wills between Eliza Doolittle and Professor Henry Higgins
"Running Mates," Rainbow's Comedy Playhouse, Apr. 8-May 27 – after 20 years of running unopposed, this year a small town mayor will have a contender for his office… his own wife
"Vegas Legends," American Music Theatre, Apr. 25-Oct. 7 – an AMT original production, highlighting the best of Las Vegas' exciting musical variety from yesterday and today