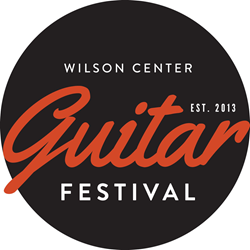 This 3-day event is the Midwest's premier and unique showcase for a host of musical styles in the guitar world.
New Berlin, Wisconsin (PRWEB) February 22, 2017
The Sharon Lynne Wilson Center for the Arts in Brookfield, Wisconsin, will present their fifth annual Wilson Center Guitar Festival from Thursday, August 17 through Saturday, August 19. The weekend will include the semi-final and final rounds of guitar competition, free master classes and clinics, and ticketed concerts for the public. Watch: https://www.youtube.com/watch?v=_f2npRqA0v0
Featuring $32,000 in prize money, the Wilson Center Guitar Competition & Festival is open to competitors of all ages. The festival features four separate competitions – Classical, Fingerstyle, Jazz, plus Rock/Blues. First place winners (in each genre) will receive a $5,000 cash prize plus solo performance; second place winners (in each genre) will receive a $2,000 cash prize; and third place winners (in each genre) will receive a $1,000 cash prize. The first-place winners in each competition will open for Kevin Eubanks on Saturday, August 19!
Milwaukee area musical instrument retailer Cascio Interstate Music is one of the event's major supporting sponsors. Cascio is Wisconsin's largest music store, and is among the top 15 largest musical instrument retailers in the nation. "We are very pleased to support the Wilson Center in this major, national guitar competition for the fifth straight year," said Michael Houser, CEO of Cascio Interstate Music. "This 3-day event is the Midwest's premier and unique showcase for a host of musical styles in the guitar world. And with the nightly concerts from Kevin Eubanks, fingerstyle legends Antoine Dufour, Gareth Pearson and Mike Dawes, plus Beijing Guitar Duo, these artists will enhance the live performance concert experience for both fans and guitar competition participants."
The competition takes place in two phases: performance video submission via YouTube and invitation-only live performance semi-final and final rounds August 18-19. Guitarists may register in a maximum of two (2) different genre categories, and all applications must be received by 11:59pm CDT on May 31, 2017.
Festival performances open to the public are renowned classical ensemble BEIJING GUITAR DUO on Thursday, August 17 @ 7:30 pm; fingerstyle legends ANTOINE DUFOUR, GARETH PEARSON & MIKE DAWES (Candyrat Records Fingerstyle Friday) on Friday, August 18 @ 7:30 pm; and modern-day jazz prophet and former band leader of The Tonight Show KEVIN EUBANKS on Saturday, August 19 @ 7:30 pm. Single tickets to headliner concerts will go on sale on Monday, March 13, at 11:30 a.m. (CDT) and may be purchased through the Wilson Center Box Office at 262-781-9520 or http://www.wcguitarfest.com.
The Sharon Lynne Wilson Center for the Arts is a beautiful performing and visual arts and education facility in Brookfield, Wisconsin's Mitchell Park that opened its doors in 2002. Located 20 minutes west of downtown Milwaukee, the Wilson Center serves as a bridge for the arts by connecting communities, linking arts organizations, and fostering a collaborative spirit that helps keep the arts alive and growing in Southeast Wisconsin. The Wilson Center is nestled inside Brookfield's Mitchell Park on Mitchell Park Drive, which is just south off Capitol Drive, between Brookfield Road and Barker Road.
Cascio Interstate Music ranks in the top 15 nationally among musical instrument retailers, and is also one of the nation's top drum retailers. As the Company moves into its 71st year in the music industry, Cascio continues to evolve as an omni-channel musical retailer, in an effort to satisfy all its customers expanding and changing needs both now and in the future.
Cascio's store and website offer electric and acoustic guitars, with the area's largest in-stock selection of top brands including Milwaukee's number one dealership for Martin, Breedlove, Guild, PRS, Fender and Yamaha and more, along with guitar amps and accessories, drums, wind and string instruments, and other items.
The Company markets over 75,000 musical instruments and accessories to musicians of all ages in a number of ways including via their website, http://www.interstatemusic.com, and through their SuperStore, located in the Milwaukee suburb of New Berlin, Wisconsin, as well as their musician-staffed information center at (800) 462-2263. Cascio also provides products to music educators at over 100,000 schools and universities worldwide. The Company started in 1946 in Milwaukee, Wisconsin and proudly remains independently owned, operated and run by musicians.