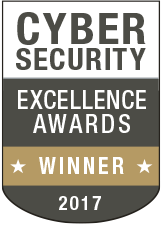 This award is evidence of what is possible when the best of industry and government come together in partnership
Arlington, VA (PRWEB) February 22, 2017
Blackstone Federal is proud to announce that it has been awarded CYBERSECURITY PROJECT OF THE YEAR as a part of the 2017 Cybersecurity Excellence Awards. The Awards honor individuals and companies that demonstrate excellence, innovation, and leadership in information security.
The partnership between Blackstone Federal and the Department of Homeland Security (DHS) to design and build the mobile application security framework known as "Carwash" has resulted in a valuable shared service to DHS Office of the Chief Information Officer that focuses on delivering secure and compliant applications to the Federal government. Identifying application vulnerabilities and issues early in the lifecycle reduces the risk of deployment delays and costly re-work, helping numerous teams across DHS successfully deploy mobile applications.
Blackstone Federal's Mobile Security Lead, Anthony Glynn, celebrates this important win. "It validates the important work we have accomplished in collaboration with our Federal customers, and the impact that these innovations continue to have in advancing mobile application security within the Federal ecosystem," comments Mr. Glynn.
"We are very proud of Mr. Glynn and his team. This is important work, and it has been an honor to partner with some of the government's most talented leaders in the mobile app security space to develop this groundbreaking solution," said Giles Kesteloot, Executive Director of Blackstone's Federal Practice. "This award is evidence of what is possible when the best of industry and government come together in partnership."
For more information about how Blackstone Federal can help your organization achieve mission objectives, please contact us at federal(at)bstonetech(dot)com.
|| About Blackstone Technology ||
Blackstone Technology Group ([http://www.bstonetech.com) is a privately-held, global IT services and solutions firm founded in 1998 and headquartered in San Francisco, California. Influenced by disruptive technology of Silicon Valley, Blackstone Federal Services helps clients adapt to the demands of a digital world.
Established in Arlington, Virginia in 2002, Blackstone Federal specializes in cloud, cyber security, Agile and DevOps services and technology solutions. Our passionate and experienced technologists bring digital expertise, creativity, and innovation to drive client success. Blackstone Federal holds the industry's top technical certifications including AWS, CISSP, CEH, SAFe, PMI-ACP, ICP-ACC, ICP-ATF and PMI-PMP.