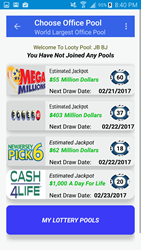 Looty Pool is changing the way people buy lottery tickets.
New York, NY (PRWEB) February 24, 2017
Looty Pool is growing fast. Now they have added Cash4Life and Pick 6 Lotto to their already popular Lottery Pools. With a total of now four Lottery Pools to choose from and join, The Looty Pool App is making it easier than ever to join a Lottery Pool. Looty Pool is becoming the new standard for buying lottery tickets.
Just imagining buying one lottery ticket and that one lottery ticket turning into 1,000 lottery tickets. That is the power of Looty Pool. Users can join one or all of the lottery pools, but can only purchase one ticket. Just think about it! When 1,000 people join the same lottery pool, that pool will now have 1,000 lottery tickets.
"I am really excited about Cash4Life," said Joseph Salmond, the creator of Looty Pool. "By adding Cash4Life to our Lottery pools it increases everyone's odds of winning $1,000 a day for life, Cash4Life drawing is twice a week on Mondays and Thursdays, and the pools are fill up quickly, so get your ticket early."
Pick 6 Lotto has Jackpots over $10 Million Dollars twice a week, wouldn't you love a piece of that! Lotto drawings are on Wednesdays and Saturdays. Just as Mega Million, Powerball and Cash4Life, buying 1 Pick 6 Lottery Ticket can turn into 1,000 Lottery tickets with just a click of a button.
Long are the days of going to the store to buy just 1 Lottery Ticket. Today with Looty Pool, with one click of a button, that one Lottery ticket can turn into 1,000 lottery tickets in seconds. The power of Looty Pool is going to change the way people buy lottery tickets.
Looty Pool is available for Android phones and can be downloaded for free in the Google Play Store. It is only available for Android phones at the moment, but Looty Pool is working on bringing Looty pool to iPhones this summer. Looty Pool – Let's Win the Lottery Together! Download it Free now at Google Play Store. Also learn more at lootypool.com.