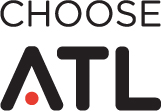 We've crafted a three-day SXSW experience that promises to ignite new ideas, create business opportunities and increase the world's sense of connectivity to our vibrant region and people.
Atlanta (PRWEB) February 22, 2017
ChooseATL today announced that it will take its search for top tech talent on the road to South by Southwest (SXSW) 2017 for the second year in a row. Over the course of three days, Atlanta will make groundbreaking announcements, convene top corporate leaders and entrepreneurs, host exclusive conversations with world-renowned artists such as Ludacris, and activate the largest job fair booth at SXSW.
"With an incredibly diverse set of career options and our rich culture and community, it's impossible to capture the Atlanta experience in just one day," said Kate Atwood, executive director of ChooseATL. "So, we've crafted a three-day SXSW experience that promises to ignite new ideas, create business opportunities and increase the world's sense of connectivity to our vibrant region and people."
The activation officially kicks off on March 11, with the opening of the 1,000 square-foot job fair booth at the SXSW Job Market in the Austin Convention Center. During the two-day exhibition, Delta Air Lines, First Data, Georgia Power, Paymetric, Global Resource Management and more will all be on hand to promote their job opportunities in the areas of digital media, engineering and software development, among others.
On March 13, ChooseATL will elevate Atlanta's tech, film and music industries by transforming the iconic Maggie Mae's on Sixth Street into the "ChooseATL House." The "House" will deliver a true Atlanta experience that catalyzes connections and immerses SXSW attendees in the culture of the region. With an expected 3,000 attendees, the activation will open with a groundbreaking announcement from ChooseATL as it continues to engage millennials through personalized and content-rich mediums. Other programming includes:

ChooseATL's signature Southern Brunch & Conversation featuring a fireside chat with artist and actor Ludacris who will discuss how Atlanta nurtured his rise to fame.
Entrepreneurs and global corporations will take center stage during the "Big Brands Driving Innovation" panel, featuring executives from Cox Enterprises, Delta and Home Depot. The panel will be followed by the first Entrepreneur Invitational where C-level executives will meet one-on-one with entrepreneurs to discuss collaborative opportunities.
Atlanta's position as a leading film hub will be on display when Tripp Crosby, aspiring filmmaker and half of the YouTube sketch comedy duo "Tripp and Tyler," interviews Frank Patterson, president of Pinewood Atlanta Studios, to discuss making "A Movie in Real Life."
"Going BIG with digitalundivided" will feature entrepreneurs Kathryn Finney, managing director, digitalundivided, and Nicole Sanchez, founder, eCreditHero, discussing how women can start, scale and sell their companies.
Culture Republic, a lifestyle and marketing company responsible for managing the brands of superstars such as T.I., OutKast and Ludacris will ignite the house with an epic night party featuring some of Atlanta's hottest artists.
ChooseATL's SXSW experience is made possible by premier sponsor Georgia Power, as well as generous sponsorships from AR|PR; Delta Air Lines, who will host this year's happy hour; Pinewood Atlanta Studios and more. To learn more and to see the full lineup, visit http://www.chooseatl.com/sxsw and follow @ChooseATL for live updates.
###
About ChooseATL:
ChooseATL is a regional initiative focused on telling a comprehensive story about Atlanta to attract and retain top talent and intentionally grow the region's prosperity in the global economy. The campaign highlights the abundant opportunity for career growth across the 29-county region, as well as the unique culture and highly-ranked livability. To join the movement, visit http://www.chooseatl.com or connect with us on Facebook, Instagram, Twitter, Snapchat and LinkedIn.