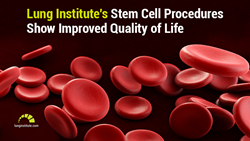 Tampa, Fla. (PRWEB) February 22, 2017
Stem cell therapy has made significant innovations in the field of regenerative medicine in recent years. The technology is so cutting edge, in fact, the U.S. Food and Drug Administration (FDA) has yet to sanction regulations on the protocol for stem cell procedures. However, successful patient outcomes in certain clinical stem cell procedures have shown that this revolutionary field of medicine is now a realistic option for people living with debilitating conditions. Stem cells are being used with promising results to treat orthopedic injuries, inflammatory-based disease and blood-borne cancers – just to name a few. For specific chronic pulmonary conditions, the Lung Institute is the leader in stem cell therapy, and patients are seeing results.
"Since opening our facilities in 2013, the Lung Institute has treated more than 3,000 patients. We are dedicated to providing superior patient-centric care, which we believe contributes to many of our patient success stories. The science behind stem cell therapy is still evolving, but our physicians have developed a safe technique that has helped our patients see results in their everyday lives," said Dr. Jack Coleman, Jr., M.D, senior medical director for the Lung Institute.
There are reports of successful stem cell cases across the country, including Herbert K., of Keller, TX, who went to the Lung Institute to receive stem cell therapy for chronic obstructive pulmonary disease (COPD), and following two months of initial treatment, he saw an increase in his lung capacity during a pulmonary function test. While every situation is different, Herbert's case is not unusual, and there are many more with similar stories. To provide additional context, several ongoing and completed studies are available for review on http://ClinicalTrials.gov that address safety and effectiveness of autologous stem cell therapy for a variety of diseases.
Opponents of stem cell therapy argue that there are no conclusive studies that show it works and that stem cell clinics are not approved or regulated under the FDA. A nationally syndicated entertainment medical TV show recently aired a segment on stem cell therapy, featuring guests who argued those points, while also discussing clinics who promise miracle cures.
"The safety and health of our patients are paramount, which is why the Lung Institute has set rigorous standards and put best practices in place at all of our clinic locations. Our Dallas location requires we follow strict IRB guidelines approved by MaGil IRB, which we have implemented at all of our clinics nationwide," said Lynne Margnelli, executive vice president of the Lung Institute.
MaGil IRB is accredited by the Association for the Accreditation of Human Research Protection Programs (AAHRPP), which means the Lung Institute follows rigorous standards for ethics, quality and protections for human research. As a medical practice, the Lung Institute complies with federal and state regulations. Autologous stem cell procedures like those performed at the Lung Institute fall into an exemption of FDA regulation (Federal Regulatory References 21 CFR 1271.10(a)(2) and 21 CFR 1271.15 (c)).
The Lung Institute's in-house outcomes summary shows that more than 80 percent of COPD patients studied saw an improvement their quality of life.
"Although we have seen many positive results, we inform new patients that our stem cell therapy procedures are not cures and are not guaranteed. Many of them come to us looking for answers. It's our responsibility to provide them with quality care that has the best chance at getting them an improved quality of life," said Margnelli.
The Lung Institute differentiates itself from normative treatments facilities by understanding the importance patient education, communication with external providers, and post-treatment follow-up to support a patient's continuum of care led by their primary provider. With new innovations in stem-cell technology every day, the Lung Institute continues to push the boundaries of modern medicine to better serve its patients.
For more about Lung Institute patients' stories, visit: https://lunginstitute.com/testimonials/
For more about Lung Institute's research, visit: https://lunginstitute.com/white-papers/stem-cell-therapy-and-its-effects-on-copd_september-2016-update/
About the Lung Institute:
The Lung Institute is the leading medical provider of regenerative cellular therapy for lung diseases such as chronic obstructive pulmonary disease (COPD), pulmonary fibrosis and interstitial lung disease in the United States. To date, the organization has treated over 3,000 patients. The Lung Institute's in-house outcomes summary shows that percent of COPD patients studied saw an improvement in their quality of life. In 2013, the Lung Institute in Tampa, Fla. Opened. Now, the Lung Institute operates clinics in Tampa, Fla.; Nashville, Tenn.; Scottsdale, Ariz.; Pittsburgh, Pa, and Dallas, Texas. For more information, please visit http://www.lunginstitute.com or call (800) 382-8095.
# # #