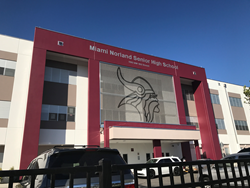 "Woven by skilled artisans, our metal mesh can transform large, designed spaces and facades into signature branding opportunities that feature lettering, logos and decorative images." -- David Zeitlin, Cambridge Architectural Sales Manager
Cambridge, Maryland (PRWEB) February 22, 2017
When the new $42-million Miami Norland Senior High prepared to open at the beginning of the 2016-2017 academic year, architects and school officials turned to Cambridge Architectural to develop a signature sign to greet students, faculty and visitors.
The result was an approximately 1,000-square-foot metal mesh screen powder-coated with Norland's Viking logo. Formed with four Cambridge Mid-Balance mesh panels, the sign is held in tension with an eyebolt attachment system above the school's main entrance.
Cambridge worked with architects Rizo Carreno & Partners on the new display. It is one of many branding projects in North America that incorporate Cambridge's metal mesh fabrics.
"Woven by skilled artisans, our metal mesh can transform large, designed spaces and facades into signature branding opportunities that feature lettering, logos and decorative images," said David Zeitlin, Cambridge Architectural Sales Director. "Powder coating and blast-etching processes on metal mesh create long-lasting visuals that can withstand weather and environmental conditions."
The new Norland High in Miami Gardens replaced the last of Miami-Dade County's 1950s-era secondary school buildings. It was the largest and last new school construction project resulting from a $1.2 billion bond program approved by voters in 2011.
In addition to creating a striking visual display with the Viking logo sign, a lighter weight Cambridge mesh was incorporated behind the façade to prevent birds from roosting on or behind the structure.
The four sign panels are hung tightly together and fastened to close the seams. A brushed stainless steel fascia around the outside perimeter prevents birds from penetrating along the side edges as well as the top and bottom where eyebolt gaps existed.
Cambridge installed a second layer of four Biscayne panels, also fastened together, behind the Mid-Balance mesh to further protect the sign and prevent birds from entering in the rear.
More than 1,700 students attend Miami Norland. Among its many academic programs, the senior high offers an Academy of Fine Arts, Hospitality and Tourism, and Teaching magnet programs. Miami Norland alumni include Ian Richards, County Court Judge of Florida's 17th Judicial Circuit; Randy Shannon, associate head football coach at the University of Florida; and several professional football players including All-Pro wide receiver Antonio Brown of the Pittsburgh Steelers.
Project Details:
Mesh Patterns: Mid-Balance; Biscayne
Attachment System: Eyebolt, in tension
Owner: Miami-Dade County Public Schools
Architect: Rizo Carreno & Partners, Coral Gables, FL
Installer: Cambridge Architectural, Cambridge, MD
About Cambridge Architectural
Cambridge Architectural is the most experienced full-service provider of sustainable architectural mesh systems for both interior and exterior building applications. As the world leader in tensioned mesh systems, Cambridge Architectural metal fabric solutions lend unique aesthetic appeal, functionality, affordability and sustainable benefits to a variety of structures interior and exterior. Cambridge Architectural offers full system design, engineering and collaboration from concept through installation – in the most challenging building environments and under the strictest budgets. Cambridge Architectural metal fabric systems are categorized by the primary applications they serve, including parking structures, exterior shades, facades, canopies, curtains and others. As a member of the United States Green Building Council, Cambridge Architectural is committed to promoting methods, technology and products resulting in environmentally responsible and healthy buildings. The Cambridge Architectural team develops systems that meet or exceed LEED requirements and provides consultation and direction on a project-by-project basis. Visit http://www.CambridgeArchitectural.com for more information.